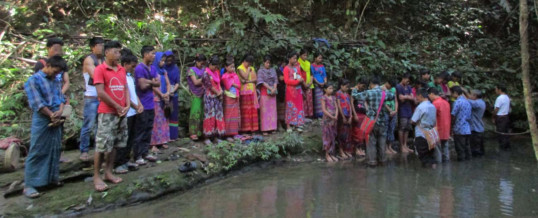 Trust that everything is well with you. We are all doing fine in the ministry and family as well. God is so good because even though we face many difficulties and disturbances in the ministry area due to regional conflicts, He is always with us in every area of our ministry activities, receiving for His blessings and giving us new fruits in our ongoing ministry. We really praise God what He has done in our ministry! To God be the glory!
We had a wonderful area conference in near Myanmar border. The church leaders and lay leaders were present about two hundred. The conference was held three days and the conference went very well. We had a seminar, group discussion, area executive meeting members body, sharing each village leaders in their respective fields, pray for one another, give encouragement each other, worship together and mass prayer for each of us and you etc during the event. We enjoyed so much at the conference. We praise God for His abundantly blessings, successful and fruitful giving us during the event.
Also we had a wonderful key church leaders meeting at the village near the town. The training was held three days and 37 were present at the training. We trained on church management and its administration, church planting, discipleship and evangelism, pastoral care and counseling, church leadership development, wedding solemnize, water baptism, the Lord's supper, Child dedication, prayer for sick and church opening ceremony etc. Leaders were so much enjoyed for learning them and they are excited to apply them in their respective fields what they have learnt from the training! Please pray for them that they may have remain in their hearts what they have received from the training and apply them and they may extend for the kingdom of God. This is our prayers.
We received 10 souls and all of them are baptized. We praise God for the new souls and pray that they will remain faithful in their faith in the Lord's.
We thank you so much for your great love and prayers. We daily pray for you, your family and your ministry as well.
Many blessings,
Sanga