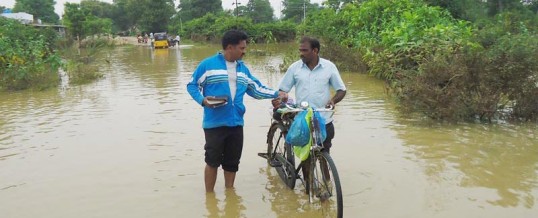 Greetings to you in Christ precious name from your brother in Christ Pastor Veeranna from Hyderabad.
I would like to give my July report in Khammam and Warangal districts places:
I give thanks to you and all the donors of Messiah Mission and friends and their spiritual and financial support to tribal (gypsy) work in South India, Hyderabad. Once again I gave thanks to each one of them from the bottom of our heart.
Messiah Missions Gospel trip to Bhadrachalam in Khammam and Warangal districts
"Preach the word! Be ready in season and out of season. Convince, rebuke, exhort, with all longsuffering and teaching". II Timothy 4:2
The River Godavari's fury continued with the water level rising at Bhadrachalam in Khammam district. It reached 62 feet mark giving sleepless nights to the people in the low-lying areas. Several villages have been marooned with flood waters of Godavari. Several houses in the low-lying areas like Subashnagar in Bhadrachalam town were surrounded by floodwater, which seeped in due to alleged leakages in the sluice gates of the flood bank.  In Andhra Pradesh state, rain has continued from July month to still today. We are so thankful to God for rain in this season but there are many people in Bhadrachalem in Khammam district and other districts of Andhra Pradesh state with sleepless nights.
The month of July I visited some of the our pastors churches in Bhadrachalem area and preached the word of God and distributed tracts but in some places I couldn't visit them because all the roads were cut because they were full of water and there was no power supply.
By the grace of God and through your prayers support I reached many unreached areas and preached word of God, prayer for sick and distributed tracts in flood affected in Khammam district: Bhadrachalam, Sarapaka, shbhasnagar Modikunta, Musallamadu Aswapuram, Yettapaka, Jagaram, Mothi. During the month of July I visited Bhadrachalam, Sarapaka, subasnagar Modikunta, Musallamadu Aswapuram, Yettapaka, Jagaram and Mothi to preach the word of God and encourage to our associated churches and pastors in Khammam districts.
I also spend time with our Grace children home at Thrilapuram village and teach the bible stories and song the Banjara songs.

Prayer requests:
Please pray for flood affected churches in Bhadrahcalam Khammam district our pastors looking for helping hands .
Please pray for flood affected poor pastors, evangelist in Bhadrachalam Khammam districts, they lost churches and houses , no food , no good water to drink.
Please pray for Pastor Lazarus family and church building contraction work.
Please pray forYesupadam family. His family every night sleeping in church and morning in under the tree.
Please pray for Himanth church needs bricks and cements .
Please pray for my next week village ministry at Nalgonda district
Please pray for Messiah Mission Hyderabad church building needs.
Please pray for Joseph incomplete church and pray for Rag pickers children salvation.
Below you will find detailed information of our associated pastors in Khammam and Medak district:
1. Pastor Poduthri Andrew
Pastor: age 35
Wife: P. Adasha age 30
Children: Prathusha age 15; Prasanna age 14
Ministry: Since 10 years working as pastor in two churches: 1. Yettapaka, 2. Chellapalem
Pastor Andrew is living in Yettapaka nearby Bhadrachalam town this town is a very famous one in Andhra Pradesh state . it has a big Hindu Ramalayam temple . the great River Godavari in length and breadth gave a dangerous look without much water in summer season and in rain season this place every attracts tourists. He is energetic and faithful servant of God, ministering among the Koya tribe and Telugu people. Pastor Andrew has wife and two children. He is living at Yeettapaka and twice in a month he comes to prayer meetings and Sunday service at Chellampallem village . it is thirty Kilometers Yettapaka . they all have come from heathan back grounds . Bro. David presently church elder came there for prayer and seeing and experiencing God's power in their lives . God delivered the child from the deadly situation and Bro. David gave sufficient land for the church and took initiative to constructs the building also.
I and Pastor John Mohan visited this church and preached word of God during Pastor John 1st visit to Hyderabad and Khammam.
2. Pastor Yesupadam Mundikkonda
Pastor: age 45
Wife: K.Yesumani age 42
Children: Pawan Kumer age 26; Marrya age 24; Ramesh age 22; Sandya age 17
Ministry : Since 15 year working as pastor in 4 villages: 1. Mondikuntta, 2. Takulapally, 3. Thogudam, 4. Kothada
Pastor Yesupadam lives in Mondikuntta village Khammam distrct. The meaning of his name is (God feet) he is humble, honest and hard worker. He has two sons' two daughters All his family dedicated for God ministry. During The year of 2009 my gospel trip to Bhadarachalam and surrounding villages in that time I find this very poor servant of God. When I saw his condition my heart was broken and tears came out. No home no church building living under the tree and worshiping under the tree. God so faithful to His children and servants. He never live alone and forsaken us. The year of 2009 I gave bible training him and helped to church building 2010. Praise God . Now pastor Yesupadam working in 3 village ( Modikuntta, Musalmagu and Sitharampuram villaes ) . every Sunday twenty five to thirty gather in this church , all are very poor people but strong believers who have come to faith through what God has done in their lives . He son Ramesh married recently helping to his father church service . still today this family go under a tree and spend the night there standing or sitting because of the fear of snakes and wild animals or the terrorists ( Maoists). Please pray for Vehicle and good home.
3. Pastor Lazarus
Pastor Lazarus doing ministry at Aswapuram village. God blessed one daughter. He has facing many challenges, problems and temptation in his life but God is so graces to him . he has one thatched house and 10 families as believers they have donated a 30×16 land house site for the church and he has constructed a prayer hall and the walls have come up to poof well but no roof . I encouraged him to trust on God continue prayer so that God will do miracles for the need is great . Last time I and Pastor John Mohan visited his church and encouraged and prayed for incomplete church building. He gave everything for God's work. He sold his new bike for church contraction and now he is looking and trusting on God to complete church building.  Please pray for church roof, cement bags.

4. Pastor Pondhi Hemanth
Pastor: age 38
Wife: P. Lucia age 35
Children: Merry Diana age 17; Jessica age 14
Ministry: Since 10 working as pastor in 2 villages: 1. Bhadrachalam yettapaka, 2. Modiyalu
Pastor Hemanth working near Bhadrachalam town. He stays in Yettapaka village.
He has two daughters . every Sunday he is conducting two service. One is morning time 10am to 12pm at Modiyawa and second service evening 7pm to 9pm at Yettapaka . He works among youngsters. Presently his house Varanda is used as church and he wants to have walls around.
Please pray for walls , windows , cements and bricks .
5. Pastor David Raj
Pastor: age 33
Wife: Annama age 30
Child : chakri age 13
Ministry : Since 5 years working in 2 villages: 1. Venkatapuram; 2. Nagaram

Pastor working at Venkatapuram and Nagaram villages . God blessed one son. Venkatapuram church contracted by bamboo building and roofed with thatches. Every Sunday believers coming together from mile away. He prepares love feast on every Sunday. All are very poor but strong believers who have come to faith through what God had done in their life. In summer season He does not have a resource for water in his village and two hundred meters away there is a bore well that belongs to the upper caste man and Christians are not allowed to take water from their bore well tapes. No drinking water available.  During my July visit I could not go there because Venkatapuram flood effected area road was cut no way to go there. This week I am going to visit Pastor David Raj church.  Please pray for church building and bore well.
6. Pastor Jarupalla Philip
Pastor: age 37
Wife: Laximi age 30
Children: Suguna age 17; Madan age 13; Saroja age 9
Ministry: Since 10 working in 2 village: 1. Gotumukula; 2. Cheenagotumukula

Pastor Philip is working at cheenagotumukulla Banjara village in Medck district. God blessed him with two daughters and one son. Every Sunday 10 to 15 believers are coming to church. Last year he started free education school for 10 poor children. All the Banajra village people rejected him, but he stands for word of God giving testimony of Christ. Please pray for his children studies and a vehicle.
7. Pastor Golkonda Joseph
Age 60 year
Wife : Sonjana
Children : 2 daughters 3 sons
4 grandchildren

Pastor Joseph is working at Gabillapet slum area Hyderabad city. God blessed him with 5 childre. The Gabillapet church contracted by self support of church believers and family. Every Sunday more than 20 – 30 believers attending. All are very poor but strong believers who have come to faith through what God had done in their life. He has been ministering since 15 years in his church 2013 we are conducting free education for poor children through this way we could teach Sunday school stories to children. Please pray for His church need complete good finishing side walls inside and out side
Yours and in His service
Pastor .B.Veeranna