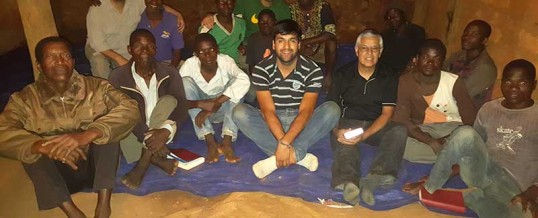 Start of the Journey
My trip started on February 1st, 2016, departing from Washington, DC via Johannesburg, ZA, and reaching Maputo— the capital and largest city of Mozambique, as well as the main financial, business and commercial center of the country. It is located on the western shore of the Bay of Maputo, in the southern end of the country, near the border with South Africa and Swaziland.
Thanks to God that I was received in Maputo by pastor Marcelo and his wife Luana, missionaries from Brazil. I praise God because in his mercy He not only makes us learn of the need of the local people, but also gives us the blessing of meeting those missionaries who are giving up their careers, families, places of comfort, and who are here trying to help, trying to give love, trying to teach the word of God. Many of them have problems because when they are here, many times nostalgia hits them, either for their country of origin or for a more comfortable living, but the need of the people here, the love that God has place in their hearts for them– and above all God's call– is what inspires them to stay. They are found to be praying to God and asking for strength to continue on, their lives are full of hardships and they often feel forsaken by those who offered friendship, company or sustenance.

I continued my trip to Lichinga, located in the province of Niassa 2335 km to the North of the country, and from there to Itepela, about 4 hours from Lichinga, on a road in very bad shape, result of rains. We arrived at our place of work among the Yao. The Yao are close to 2 million people spread in three countries: Malawi, Mozambique and Tanzania. They are predominantly Muslim, and most live in utter poverty. In fact, in some villages, the local people still practice and conserve their roots to the occult. They are currently considered a people group not reached by Christianity.
There, I met with my missionary brothers coming from Chile: Leandro, Elias and Nicolás.
Itepela
We arrived in Itepela and found the missionary who invited us, our sister Catherine, with malaria. Leandro and Nicolás were helping with an electricity problem and while they performed the work, Leandro had his foot hurt, rather slightly, but very upsetting. Also, apparently we all suffer the typical effects of the excessive heat, and the difference of hours (7 hours with USA EST).
We thank God for being in Itepela, learning from every person living here.  We are very happy that God has given us this beautiful opportunity to come to this place.
There are many children here. Their clothes are much destroyed. Some girls carry heavy buckets of water at an early age, putting much weight on their heads.
We have learned so much. We have seen the concern of parents looking for food, we have seen many children who do not have anything to eat throughout the day. We realize that they are suffering, but no one shows it, they are always smiling.  We saw how some children cooked ants or others spend all day just with a mango as the only food for the day, and many of them are suffering from Malaria.  We are strangers in the village, but we have become friends of many children who leave their homes early to peek through our windows, waiting for us to share with them.
With all our hearts we pray for them.
We wish many blessings for Mozambique and that our good God provide for the Yao people, not only the needs of food and healing for their illnesses, but that He would also touch us to do much more to share the spiritual bread with them.
If we do not assume responsibility for their great spiritual need which also exists in the rest of the world, how we can eat in peace the spiritual bread that is available in abundance where we are? May God move us to give up the comforts, the material goods, the holidays, especially in the times we live now, so that each person in the world may have access to a Bible and to someone who can explain it to them.
Regarding the temporary deprivations we suffer, over time we get used to living without them, and their lack is easy to endure because it is temporary.  We have been here only 15 days, (half of our missionary trip) and God has made us see his glory.
In the evenings, we walk in the darkness towards our meeting point where God has already given us great benefits with those who have committed their lives to the feet of Christ. There is no singing, no offerings, except hours of study of the Scriptures.

This is another world, a very different reality.  People really need of Christ, for them God is not an accessory.  They do not waste the spiritual food, they do no doubt what is taught in the word of God, but they embrace the divine counsel immediately.
Here the Muslim pressure is very strong.  It is everywhere, within all the families, schools, work, business, polits, etc. It is all invaded by them, as a machine that moves from North Africa to the South.
May God give us a new vision how to serve him, getting much more involved in what remains to be done.
God gave me the opportunity to teach of Christ's sacrifice the night before and I told the story of the Ethiopian convert. Our brother Lisboa wanted to know a lot more about this piece of the Scriptures because he did not understand it. It was wonderful to share with him and explain everything that the Holy Spirit made me share.  I saw in his face so much joy when he learned about whom was the eunuch reading.  It seemed to me to be living the experience of Phillip.
There are several of them who have made the decision to be baptized, but we still don't know if we can do so in the morning.  This is very dangerous for them, but tonight we will watch and wait if they come for us in order to perform the baptisms.
Brother Lisboa can speak 8 languages and he is always carrying a phone-like device, a very old solar audio Bible in the Yao language. He spends all day studying about Jesus, what a blessing!  When saying our goodbyes, he taught me several phrases in Yao.
We are working in several activities, building relations with the Yao, trying to learn some words to communicate with them, as well as helping to build a room to start a school.
Pray for us (good health) and for finding the opportunity to give the message, so that in everything God is glorified.


To be continued…