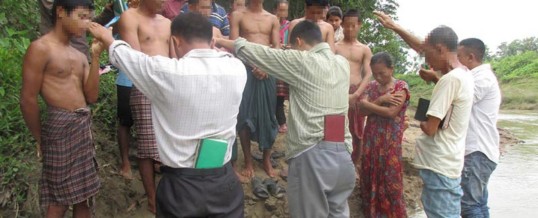 Please note: Due to the dangerous and intolerant Islamic regions in which these Bangladesh pastors serve, their real names will not be published. The photos of leaders will be pixelated as well.
Trust that everything is well with you and those with Messiah Missions? We are all doing fine in the ministry and family. At present heavy raining at our place. It's very difficult to access in the remote ministry area during the rainy season, but God is always with us.
My wife is doing fine with the women ministry. She has been involving at women ministry for six year as financial secretary. They have very much unity in their works and actively doing in their activities. They are also forming women gospel team and sharing about the word of God among the unreached indigenous tribes. Please pray for them so that they remain in boldly and strong in their works.
My little daughter is age 14 years old. Now she is studying at Bandarban cantonment high school & college. She is doing fine with her studies. She has been practicing every day bible reading, personal prayers, and giving (tithes) what we have taught her to do. If her mother or I give money for school breakfast or any other necessaries, she gave tithes from that received money from us and deposited in her personal box. Will then after five or six months deposited money donated for ministry. Please pray for her so that she remains follow according to our teaching and according to the will of God. Also, pray for what we taught her to do and remain in her mind, obey continually and God give her wisdom, knowledge, understanding, intellectual, direction, confidence and grow in spiritually in her life. Whatever she does, God's to be glorified!
Our adopted son is age 7 years old. He is studying at Para primary school in class one. Pray for his wisdom & understanding, health, blessings, His guidance and we may be able to teach according to the will of God and he may grow in spiritually in his life. We pray that God will use him for the expansion of His kingdom in his future.
As you know, my fellow workers and I would like to be involved in the ministry in full time. Since we have already our family and as a human being, we also need to care for our family. That means we need to find money through local jobs for our family to be maintained and supported. Since we do not have any support for ministry and family, that's why we couldn't become involved full time in the ministry. If we have support for family and ministry, we are always and strongly committed to become involved full time in the ministry.
Actually, our lives must should be involved in the ministry full time. Because only sharing and preaching about the word of God and after come back home is not really enough. There are many things to do in the ministry. If we would like to see fruitful and reproducible and quality in our ministry. Since most our ministry areas are illiterate people, we have to teach repeatedly, until they come to know it. In addition, we must follow–up, monitoring and evaluation our work. That means we have to stay and live with them as much as possible or until they know it and practice what the bible would have them to do. Our ministry should not be on quantity but we value it should be on quality how must they have strong faith in God.
No U.S. resident can visit our ministry areas, which are restricted to foreigners; we will provide text outlines of our ministry activities and will send limited photos. This is the document or witness or our work and without this, supporters will not trust our work. I know completely understand this. As you know, there are many ISIS groups here. They especially target foreigners, missionaries, pastors, church buildings and Hindu temples. Every day this is happening here. Last year in the month of July, ISIS members killed 23 foreigners at a restaurant.
One thing I would like to share is our ministry areas are very far. Half of the way requires going by rugged jeep or motorbike. Then we must go on foot in the hilly areas, traveling up and down in the deep jungles. When we go to remoted ministry destinations, it will take 2 days to reach some places. Others take 3 and 4 days. Therefore, when we go to deep remote ministry, we have to remain 10 to 13 days without family and visit area villages as much as possible. Because our ministry areas are Islamic disturbances areas, many rebels groups have developed at the border of India and Myanmar.
Right now, our country is experiencing rainy season, and it is very difficult for going to remote village ministry. During the rainy season, there are many leaches, snakes, wild elephants, mudslides, and mountain water floods. Please pray for these issues, so that we can go safely and back safely. Please continually pray for our family, health, and His guidance. Pray also for to continue our big responsibilities to expand for His kingdom. Excited to hear more from Messiah Missions soon and have fellowship with you. We will be praying for you, your family and your organization and those with you.
Much love in Jesus,
Sanga & family