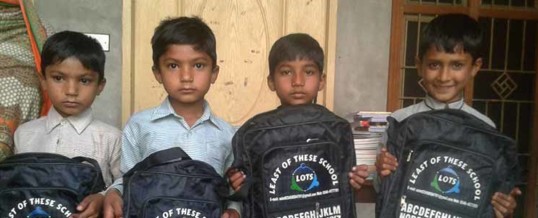 Matthew 20:17-19: Now Jesus was going up to Jerusalem. On the way, he took the Twelve aside and said to them, 18 "We are going up to Jerusalem, and the Son of Man will be delivered over to the chief priests and the teachers of the law. They will condemn him to death 19 and will hand him over to the Gentiles to be mocked and flogged and crucified. On the third day he will be raised to life!"
Dear Brethren in Christ! Greetings in the name of Lord Jesus Christ! Happy Easter in advance. We are blessed that you are with us by your prayers and financial support. We are truly blessed that God has made this way that we are connecting with you by Messiah Missions.
During the month of March 2017, we have visited 150 Christian families and share with them the Word of God and by the Grace of God, God has provide foods to five slaved, brick kiln families and school uniforms, shoes, foods and school stationary to our 180 children in Least of These Center and Saint James Primary School.
Evangelism
We have visited twenty five towns in our city and where we Christian brethren together and Praise our Lord Jesus Christ. We arrange prayers meetings in our Christian brethren home. Where we call to our all brethren, who live near the place, they gather in one selected place and we share the Good News with them. They are warmly welcome us and share the love of Christ with us.
Brick Kiln Families
We are thankful to God that God is guiding Messiah Missions supporters that they stand with our pakistani slaves and brick kiln families. We distribute food package to our five brick kiln yard families. They said to you, thank you so much for your great love. We hope that we shall distribute foods to 180 slaved and brick kiln yard families at this Easter. Please join us.

Least of These Center
We thankful to God that God has provide us with school uniforms, shoes, foods and school stationary for our 110 children. We thankful to God that He is encourage you and guide you that how and where you donate for our orphans, street, poor and needy children.

Saint James Primary School
God has bless us with one of this organized platform, This is blessing from God that God has bless us with this mission building. Where we freely share the word of God and teach the elders, teen age and little children. During this month, we arrange nine prayer meetings and everyday formal educational institute, Biblical institute and shelter for homeless and orphans. We share the foods and school stationary with our 90 little children.


Prayer Request
Pray that God bless food to our Brick kiln yard and slaved Christian families at this Easter.
Yours in Christ,
Asim Saddique