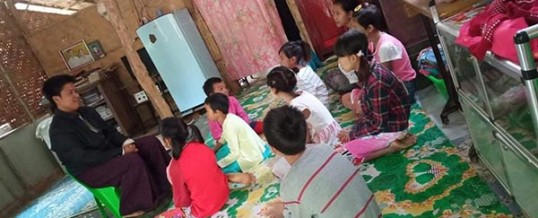 Dear All Brethren in Christ! Greetings in the matchless name of our Lord, Jesus Christ. What a wonderful and amazing new year God has brought us in. In 2020 was a difficult year we have encountered but I hope 2021 will give us a new hope for us by His grace. Even though We experienced the hardship of the world, God is with us, empower us to overcome the this for the glory of the Lord with His powerful. We have now experienced a month of beautiful year 2021. In Myanmar, some restriction is now cancelled. The cases of Covid-19 is going down every day. Praise the Lord. I believe that God open the opportunities for us to share His gospel with the unreached people groups.
Prayer meetings
Some of the restriction is open but it is not allowed yet to visit to our friends or the non-Christian's houses for prayer meeting. But we try to do small group of pray meeting in non-Christian's house. We have more than 30 times prayer meeting at Non-Christian's house. And then we have fellowship and prayer meeting twice a week on the Zoom or FB messenger group.
Sunday School
It is God's amazing grace that we can reach many more children in the remote areas especially in Seikphyu, Tarlay Shan state and Hlegu. Even though we still can't organize or gather more than 30 children or people, we do small group. We can reach more than 100 children in the month of January, 2021. We regularly provide them food every gathering time.
Evangelism
Personal evangelism can be done many more than 2020 in January 2021. We can reach and share the gospel to more than 130 people and distributing more than 200 gospel tracts this month.
Prayer Requests
(1) Pray for the peace of the world
(2) Pray for people infected with Covid-19 around the world.
(3) Pray for the lost souls in Myanmar.
(4) Pray for the needs in the ministry.
In His Service
David Ling
Messiah Missions International Myanmar
Myanmar