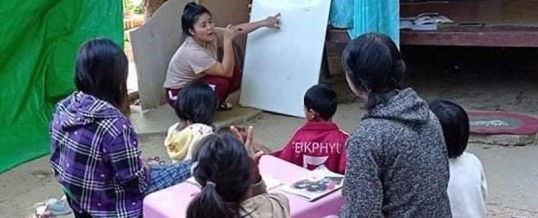 Greetings in the wonderful name of our Lord, Jesus who took the human flesh to save us from the bondage of sin and Satan. His name is Immanuel which means God with us. May the peace from God be upon you all from this Christmas season. May the peace of God be upon the whole world and the people in it. The Covid-19 cases in Myanmar is getting high every day but God is with us and we are saved by His protection. In the month of November, in some of the remote areas, evangelism, Sunday School teaching can be done with small group. It is amazing. Every opportunity we get, we take advantage to share the gospel.
Prayer meetings
It is hard time for us to visit to the non-Christian's houses for prayer meeting. But we have fellowship and prayer meeting twice a week. Sometimes, we did three times a week at online with the believers and church workers.
Sunday School
By the grace of God, in some of the remote areas, Sunday school children teaching can be done especially in Seikphyu where we have mission field. But we cannot organize more than 15 people one time. The children are participating at the Sunday school. We can reach more than 70 children in November. We provide them food, cake and cool.
Evangelism
Some evangelism activities can be done in November. We can reach more than 50 people even if it is hard time for us because of Covid-19. We can distribute more than 15- numbers of gospel tracts too.
Helping Hands
In the month of November, we can help some poor families with small bag of rice and onion. We can help 20 families with small gifts. We are very thankful to Messiah Missions International for the support to help the poor families.
Prayer Requests
(1) Pray for the peace of the world
(2) Pray for people infected with Covid-19 around the world.
(3) Pray for the lost souls in Myanmar.
In His Service,
David Ling
Messiah Missions International Myanmar
Myanmar