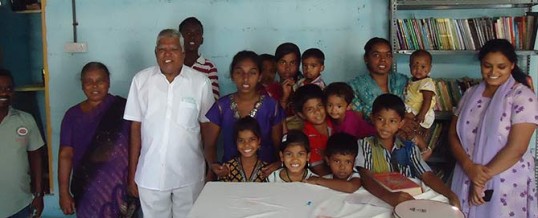 "Vision is not that you got in devotion but vision is which makes you dedicated in the great commission."
Our blessed Lord and Savior Jesus Christ tasted death and conquered it to give deliverance for the Mankind from Sin, Sickness, Hell and all other clutches of Satan which persecutes human generations from the days of Adam and Eve. Because of one man's disobedience they came and because of One Blessed Savior's glorious victorious obedience they can be wiped out from on the earth by faith in the only true living God Jesus, the eternal son of God. The Son of God gave us the Great Commission to execute and implement even unto the uttermost part of the Earth by preaching and teaching the Prophecies and the Promises of God. Messiah Missions is striving for the furtherance of the Gospel of the Son of God, to reach every village and town of this sub-continent. The reason that the Son of God has to bled on the Cross of Calvary reveals us the random of the punishment of Sin and the Capital Price for the redemption of man.
We have already reached the states of Utharkhand, Delhi, Telangana, Orissa, West-Bengal, Andhra Pradesh, Kerala, Tamil Nadu and Karnataka. Messiah Missions' north Indian Headquarters is situated in Hyderabad, the Capital city of Telangana and Central Indian Headquarters is situated in the Temple city of Nanjangud in South India. Messiah Missions does not try for the acquisitions of the Infrastructure development but strives for the accumulation and acceleration for the saturation of the Gospel of the Son of God for the redemption of man though he is poor or rich, educated or uneducated, well dressed or in rags the value of a human soul is greater than the whole world. So we come down to work with the vagabonds, beggars, sick persons in the hospital, as well as with street children, slum dwellers, widows and tribes. Because of the situation here in India not all the pictures could be covered but the improvement in the Gospel work is evident by the steady increase in the number of Christian believers seen around.
Almost all of our congregations worship the Lord in rented houses except for the one in our central India headquarters and the other one in the Messiah Missions Central Church in Devaramanahalli. But we are not taking steps for the construction of the church buildings rather we are taking time to reach as much as people with the saturation of the Gospel of the Son of God because the time is at hand and the Kingdom of God is nigh. When the night comes no one can work but as the day is there we can work until Light is shining.
REVIVING THE VISION OF NATIVE EVANGELISTS IN INDIA
I am sure that no other Country has swallowed so much as the Millions of Dollars spent in the soil of India for the sole reason of Gospel Evangelism and Charity purposes like building of sophisticated school buildings, multi-specialty hospitals, distribution of Food and clothing and yet the results are not satisfactory. So we induce for the good use of an eye opening work book for the Pastors and the evangelists of India in their own languages. God has also inspired it to our International Director and the "Finding the Balance in World Missions" book has been published and reached hands of the Kannada speaking [80 million population] and the Malayalam Speaking [30 million population] peoples evangelists in South India.
And the third much needed language is Tamil language and the Book has been translated already in that language and it is in manuscript level. Efforts are on for the Printing and Publishing of the book in Tamil language within this year. We look forward the generous donations of the heart stirred people of God for the purpose which will be a breakthrough in the History of the Christianity in India. I am sure the donors of this cause are going to be much richly rewarded in the eternity because today's book is tomorrow's his-tory and a book is not an eatable but a credible cradle for the adorable Son of God.
Feedback says Pastors got energetic vision for the evangelistic activities in the generic community of the negative attitude. Evangelists seldom thought of the Kingdom Building of our Lord-dom has put away their boredom and came out for even Martyrdom for the reason of Blessed-dom during the Master's coming.
CHURCH IN DEVARAMANA HALLI VILLAGE IS ELECTRIFIED
The Devaramanahalli village Christians were praying under hurricane lamps and candlesticks, but now they have got their village church electrified. I want to specially thank the Messiah Mission's family for the whole-hearted support by providing funds for the electrification of this prayer hall. They were saying they want to conduct Night prayers from 6 pm to 10 pm for the Revival and church growth. By the end of this year they want 200 members in this persecuted village and brave Christian witness area.
CHILDREN MINISTRY AND THE MESSIAH MISSIONS DEVELOPMENT CENTRES
We received an abandoned child from the streets and the child was taken care of by Messiah Missions. I am not using the word adoption because there are much tightening rules about adoption in Karnataka state of India. If any the child is very much cared for and we hope that to grow the child as every one of our Messiah Missions sponsors and prayer partners. I have given the child a name "Vasantha Mary" as a female child. Six months old, nobody has come claiming the child so far. Even if somebody comes also the child is no more a father less or motherless one. Mrs. Muthulakshmi is looking after the child at presently. I have included pictures of the child and Muthulakshmi in the gallery of pictures. She eats rice and idly very much where such eating is more like those in South India. At least one member in a house is a sugar patient [diabetic].
The other child, which had been taken and sponsored by Messiah Missions seven years ago is Manasapriya and she has completed sixteen years this month. She is no more a child. We have helped her to study up to Pre-University Degree [Under graduate] level. We had been sponsoring her dresses and education so far in this seven years period. From now on as since we need to take care of Vasantha child we want to more concentrate on this child. She thanked Messiah Missions and especially the director for the kind deeds for her and her family. Nevertheless the mentioned above we have supported her mother's education and helped her to be employed in a Catholic School as a Teacher and repaired her house worth of living. Similarly Mary Gowry, Anna Ambika, Asha Mahadeva are also helping in the Children Centers.
*****************************************************
Testimony of Manasapriya

I was born in a very primitive family in one of the villages in Nanjangud Taluk. I was studying sixth standard and my father was a drunkard and also eloped with another girl. My mother found it great difficult to feed us three children. I was thinking to get rid of school going and drop my studies. Even my mother told us we should four members should commit suicide by jumping in the Kabini River from the top of the bridge to Mysore.

At that time one children ministry was started in our village by Messiah Missions evangelists. They organized 30 children and gave them sports material like skipping ropes, throwing rings, cricket bats and balls, plastic discs for throwing game, and children like me were attracted towards these evangelists. They also helped in our secular studies like free tuitions. On Sunday evening they came and putting away all things aside they taught Bible stories, Bible verses and Choruses. The children were getting snacks, coffee and sometimes Chicken Biriyani also. The sick children were attended and taken to the local doctors. After some months the evangelists tested our growth in Memory verses and Christian songs.

We three, Kavitha, Visalakshi and Manasapriya came atop and the Director of Messiah Missions, Steven Ray took us as his own children and continued to help us in our studies and gave us clothes through these evangelists.

Because of the child marriage custom here, the other two girls were married and gone away but because I began to study well I escaped child marriage and continue studying. In the meantime the evangelists also supported my mother and she wrote Pre-degree exam and passed and the next two years saw my mother as passing the Diploma in Education and she joined as assistant Teacher in a Christian School. Once my house collapsed because of heavy rains, I did not know what to do. I just sat reading my Bible verses in the New Testament and at that time the Messiah Missions evangelists came there and counselled us and prayed for us.

By the help of Messiah Missions partners, we bought cement and cleaned the roof-tails and continue to live there. From the rest of the amount we laid a foundation in our own house site and built up to roof level. Because of the problems in receiving the river sand we could not build the roof. But I am sure we will get river sand or M-Sand and fully build it in a couple of months. When my father heard that my mother became employed and the family is running smoothly, he came back and stayed with us. My mother or we three children did not go for any quarrel with my father, because in the mean time we came to know the teachings of Christ Jesus forgive those which have wronged you and love your enemies.

On 16th July 2015 found my 16th Birthday. I found now that I am a matured girl and not a child. But this year also Messiah Missions Director personally made it possible to provide me new dresses through the evangelists, paid my fees and arranged a fellowship meal to some children on behalf of me. Above all the evangelists prayed for me. I believe in prayer and I believe in Jesus. From now on I will be an Instructor here in this village Sri Ramapura in the Messiah Missions Child Development Center. I am saved to serve, so I will serve to others what I have got from Messiah Missions and I know it is from Christ Jesus!

There are 100 temples in Nanjangud Taluk and no god or Pujari has ever visited me or supported me. Only Jesus Compassionate God which looks to the Destitute. Today I know that I am not alone. Though my earthly father forsakes me, there is a Heavenly Father Jesus to love me. Because of Jesus, I got education, dresses, house, comfortable living and above all, love and hope for living. Oh I love Jesus.
*****************************************************
I want to conclude this report remembering the four men lepers of Samaria, which told each other, "We are not doing right this "Day" is a Day of Good news! If we are silent and wait until the morning Light, punishment will overtake us. "Now therefore come, let us go and tell." 2 Kings 7 and verses 9.
May Peace and Grace continue.
Your brother in the Great Commission of our Lord Jesus Christ,
JOHN MADAN MOHAN DSCO