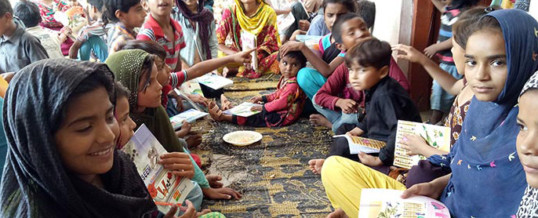 Greetings in the name of Lord Jesus Christ! God, YOU are not only the Almighty, YOU are holy! Holy, Holy, Holy are you, the LORD God Almighty. May the whole earth be filled with your glory and may that glory be shown in what I do and say. Forgive me of my own sin and hypocrisy. Bless me with purity, righteousness, and holiness as I pledge my life to your glory. In Jesus' name, I pray. Amen.
Proverbs 14:34 tells us, "Righteousness exalts a nation, but sin is a disgrace to any people."
During the month of June 2018, God has blessed us with food and school stationary for our 230 children and God has blessed us with five food-package for five Christian families. By the Grace of God, we have organised 15 prayers meetings and we visit door to door to our 90 Christian home. At least 65 dead from heatstroke in Karachi the biggest city in Pakistan and many dead in other cities, pray for cold wave for Pakistan.
Matthew 11:29-30 says, "Take my yoke upon you, and learn of me; for I am meek and lowly in heart: and ye shall find rest unto your souls. For my yoke is easy, and my burden is light."
Brick Yard Christian Family Support Program
Praise the Lord Jesus Christ! God has provide five food-package to our five Christian brickyard families.

They are very happy to receive this blessed gift from Messiah Missions and thankful to your great love. They said to you, "Thank you so much and God bless you with Grace, Peace, Joy and Love" We gather in Christian home for pray. They asked you to pray for cold waves for Pakistan because many dead during the work in very hot/fire place at brick kiln.
Least of These Center
Matthew 19:14, "Jesus said, "Let the little children come to me, and do not hinder them, for the kingdom of heaven belongs to such as these."
God has blessed our 120 children with foods. Children are thankful to Messiah Missions and friends who are standing for us. We study the bible from New Testament, The book of Acts and Romans. Children are praying that God open the door for us that we receive the food and school stationary.

Saint James Primary School
"He said to them, "Go into all the world and preach the gospel to all creation." Mark 16:15
We are blessed and thankful to our Almighty God that He has blessed us with school stationary, books and notebooks and foods for our 110 children. God has open door for us and blessed us the food from heaven. We feed our 110 kids in our SJPS. We revised reading the Book of Bible named Matthew.

Prayer Request
Matthew 7:7, "Ask and it will be given to you; seek and you will find; knock and the door will be opened to you.
Pray to God that God bless us with rainy and cold waves because we are facing hot waves and heatstroke in Pakistan.
Love you. May His Grace, Peace, Joy and Love be with you my brethren.
In Christ's Love,
Asim Saddique