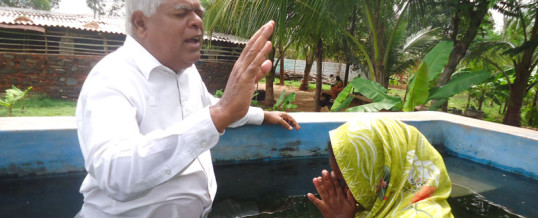 It is rainy season in India. Because of rains and cloud storm thousands of lives have been lost and thousands report rendered homeless in the Northern Hemisphere of India. But since Messiah Missions is working in the South and North East areas, and also the affected places all are Hindu Pilgrim Centres none of our believers or Pastors or Worship places have been affected in the Season.
Messiah Missions Tailoring School
This school was started for the empowerment of women in the Indian Society.  Newspapers are bringing news everyday about dowry deaths, suicides of women and children.  So we have started this in a small measure and the first batch was offered a fast track training. 12 students are passing after successful completion of the Fast Track training . They were imparted with the skills of cutting and tailoring. Please pray for the students Asha Mahadeva, Asha Siddaraju, Lakshmi, Ambika, Yashoda,sunanda, Kripa, Manjula so that they may continue to be grace and control of the Holy Spirit. Every day those teachers and students are praying together and the Non believers also co-operate in the prayers whole heartedly. Significant among them is Yashoda 36 years old lady which got trained and presently able to stich clothes independently.

Yashoda's Yashogada
Yashoda is the senior most girl in our tailoring training school she is a bonafide and cr institution. i have seen her months back but presently she is very joyous and as if she has found true meaning of her life.
My name is Yashoda. I was born in a poor middle class family. My father and mother sent me to school with much difficulty but they could not help me to go to college. I had to put away my dreams and marry a person and go to family life. This person had been good to me at first when I was enjoyable and gave a daughter to my hands and he began to stay away home frequently. He began to drink alcohol and some believed he roams with other women while I used to wait for him in the house alone. Years passed miserable and unending. I cursed my fate. During my school days, some used to say that I have been beautiful. Some used to say I was charming. But when life's billows whirl you out you may have to say anything but just drop years of tears pouring down. Such was my life. But my brothers and sisters , here I want to say that there will be a ray of hope coming towards you when you are covered by this deadly darkness and it happened to me in the name of Messiah Missions Tailoring Training School.
A friend of mine one day told me about a Tailoring Training school which teaches this skill to the incumbents without asking any fees. I went and talked to the Instructors. They readily accepted me and began to teach me treating me very gentle and loving me and caring me. The most negative thing that was interesting to me was that I , being a non Christian woman, how they could love with this sisterly or even godly love. Compassion towards the destitute is bringing up sustainable fruits.
Later I understood this school is established, and supported by Messiah Missions and their donors. They used to pray in the beginning of the sessions and in the end of the sessions. I fastly followed the others and began to cut and stitch cloths and later learnt to make dresses very fashionately. Now a days I spent late hours on the machine and I am spending joyous times with my only daughter. I have a goal in my life to be a Light to others and being a salt to add taste to many other sisters which does not have meaning of their life. We have only one life and we make it worth living.
Not only myself but also all the student body and the faculty of this Tailoring school do/ gratefully remember those who donate generously to Messiah Missions and pray to God to bless them more and more, Thanking once again I remain,
MRS. YASHODA D
Believer Baptisms
Since it is the covenant of Jesus Christ to baptise the believer in Mathew 28:18-20 we give baptism to the people which used to ask for that in their testimony time.
Such people we have seen that they are filled with the Holy Spirit of God and speak boldly about their Testimony in Jesus Christ. One of the believers in our congregation has a 2 and a half acre campus in which he has built a 12 x 14 x 6 feet water tank.  In this water tank only we are giving baptism. We look forward for having our own facilities for this cause in the near future because this service is a permanent sacrament for the New Testament Church.
Pastors, Evangelists and Ministers of the Gospel
This month I had to visit Pastor Suresh in Kerala and found time to pray with him. The reason is some of the believers went out from his church and formed a separate group.

There is a lack of training and discipleship among the Indian Pastors. So nowadays we distribute a copy of the
Finding the Balance in World Missions
to each pastor we meet with. Many of the village pastors need this book but they do not know English as much as they need to grasp this book. So we are trying to translate this book into various Indian languages.  The Kannada work is going on and will be brought out in the end of this year. Other vernacular translations such as Malayalam, Tamil , Telugu and Hindi will follow in subsequent years.  Presently, 16 pastors and evangelists are supported directly by us partially. We are working for supporting them fully every month.Even then we commend them for the prayers of the God's people as some of them used to support the Messiah Missions in our efforts to reach the Gospel to the unreached. This means we have to support their house rent, living allowance, children care, vehicle and fuel. Of course encouraging reports are coming out from the fields about first time decisions of souls coming to Christ. In South India, we have four states and Messiah Missions have its presence in all the four states. And in North India Messiah Missions have representation in Orissa and in West Bengal.
West Bengal was under the rule of Communists for 35 years.  The result is evident: You can see a Bengali anywhere in India uneducated, untrained, uncultured, starving for food and a job that can feed him full stomach. We have given 120 baptisms already in this land and the land turns to the Lord Jesus Christ gradually.
Building of the Headquarters
Almost all the cement concrete works are finished in the headquarters building. The next phase is fixing the doors and windows, electrical, sanitary and plumbing works and pavement of mosaic flooring tiles on the ground which needs a large amount. We look to the Lord in fasting and prayer towards these expenses. So far we have done all these works only through the donations received from several prayer partners and we are thankful for the sacrificial and rich donations they have extended. We plan a full furnished sophisticated office building for the National Office for the Messiah Missions in India, a home beyond their home for the Directors and/or well wishers/ our prayer partners when they visit to India and they would be in India through this headquarters building. They will not have to book lodges and risks with that. We believe compassionate outreach to the destitute should be extended to the needy places and persons, supporting global and local initiatives. Bible Training Institute and Men's Hostel, Tailoring Institute and women's Hostel, and the children Home plus home for the Destitute women will not function in this campus because our visitors will need a peaceful and pleasant time after long journeys. For those purposes we have already occupied another land consisting of 15 ,000 [fifteen Thousand square feet only. Since it is needed a CEMITARY for every church a part of this land will be used for that purpose also.
Me, your co-worker and servant of Jesus Christ is having good health presently. I am visiting houses and churches regularly and the Head Quarters construction is regularly looked after by John Roy who is taking charge of the local church in Nanjangud Town also.
Mrs. Hephzibah is very helpful for the ministry as she looks after the Children Ministry which has 7  Messiah Mission child care center. Apart from a mere Sunday School  A center has facilities for  snacks/food, medical facilities, free Tuition for  all the students irrespective of caste , creed, color and religion.
Sincerely in Christ's love,
PASTOR JOHN MADHAN MOHAN
MESSIAH MISSIONS.ORG MINISTRIES IN INDIA
——————————–
Note:
Please pray for our associated churches and pastors:
Pastor Satish
It is good to pray for each other and keep pastors in our memory. Prayer of the righteous is very fruitful. Pastor Satish is living in a small house in the Pulpalli- battery road. He lives in a rented house taken for the purpose of prayer. He pays house rent of 500/= His wife Mini is committed, saved and baptised, which is always helpful for the ministry. He has two children who are going to high school.

Six people are saved and all of them are baptised here in the reported year. He enjoys full support from the community because he is from the same community among whom he works. He has a vehicle , when it was bought we partly supported and the rest was from the believers and the people group benefitted by his ministries. The vhicle name is BAJAJ CT 100. When all the members are gathering together, 45-50 of them are there.
Brother Samuel
Brother Shyam Samuel had to be out of station in Bangalore, the Capital city of Karnataka State. During this 2 years period he has established a congregation and a Sunday School in Bangalore.
He is good at writing and office related tasks. He was my right hand and my left hand in all tasks, as secretary general. I invited him back to take up some more responsible job in the new Messiah Missions headquarters as part of the leadership. He has been ready to take up the job and the commitments are growing.

Though he is not married yet, he has a mother, two younger sisters, to look after. He is good at driving and very influential person in this area. He will be very helpful if he continues in this town. He is not interested in paid job of Evangelist or church leader. He says Gospels not for sale, life is free gift. He says Messiah Missions should never pay me "I am but a pillar (leader) of Messiah Missions." All our aspirations are complete at this time, the headquarters is nearly finished and we own a burial ground for the church plants in Nanjangud town and in Mysore city. We have to own our own plots where all the hatred unto Christians are heaped upon the christians during desperate times like need for burial.
Brother Shyam Samuel has planned his life for his Survival and Ministry in a unique way. He is going to sell vegetables in the Nanjangud Market for the three days from Monday, Tuesday and Wednesday. We do not have local meetings on theses days. The next four days are busy. Those days he will be working with us in the evangelism field. Since we have Brother John Raj for Bangalore city it is easy for me to direct him to Bangalore and continue ministry there. Please continue praying for Shyam Samuel and the vision he has for the fulfilling of the calling and representation of JESUS CHRIST. I commend him for the goodness and mercy of the Lord Jesus Christ and you are free to send any gifts to this gentleman in the Lord.