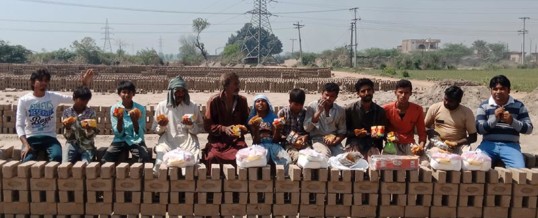 "Happy Easter" From our Pakistani Community and Children, greetings in the name of Lord Jesus Christ! We thankful to your great love, prayers and financial support in March 2018. Praise the Lord Jesus Christ! He is Risen.
During the month of March 2018, God has blessed 70 children with foods at our LOT Center and provide small food package at brickyard for poor Christian families. God has anointed our group members that they continue join us and spreading the Word of God in Pakistan. During this month, we have visit ten ministry area, where we Christian families are gather one home and Praise Him in maturity. God has bless us that we reach our 170 Christian families and share the word of God. They are very happy to receive the Word of God. With the support from Messiah Missions, we have distribute five-food package to our five Christian families in brick kiln yard. They are thankful to Messiah Missions for their continue support. We celebrate Easter Greetings with our Brickyard families and sharing the food with them and celebrate the Easter in Least of These Center.
Brick Yard Christian Family Support Program
God has provided five-food package to our five Christian brickyard families. They are very happy to receive this blessed gift from Messiah Missions and thankful to your great love. They said to you, "Thank you so much and God bless you with Grace, Peace, Joy and Love" When we reach to them with the food package, they are very joyful and Praise our Alive God and very excited. They pray that God open more heart for our brethren and they join us and pray for us.
Life for them is like for most minority Christians in Muslim-dominated Pakistan — life filled with persecution, abuse, and grinding poverty. In particular, many impoverished Christians who owe financial debts to Muslims are often forced to work in brickyards as a means of repayment. But with a pay rate of 44 rupees, or barely $1 per day, many enslaved Christians work for years on end to repay high-interest loans, sometimes lasting generations.
An organization working in the area has declared, "Americans complain about class sizes in America, or lack of funding for schools and good facilities. The brickyard children are happy to have the opportunity to learn how to read and write if nothing more from someone teaching them. If they receive an education, then someday they hopefully will not have to end up making bricks like their parents. Messiah Missions assists, aiding to break the bondage cycle through education and learned hope in God."
Least of These Center
God has blessed our 70 children with foods. Children are thankful to Messiah Missions and friends who are standing for us. We study the bible from New Testament, The book of John. Children are praying that God open the door for us that we receive the warm cloth.
Prayer Request
Pray that God bless us with food and school stationary, school uniforms, shoes and school bag. "Consequently, faith comes from hearing the message, and the message is heard through the word about Christ." Romans 10:17
Love Messiah Missions and all its partners.
In Christ,
Asim Saddique