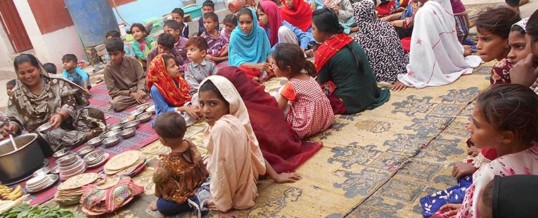 What a blessed way that God has open for us that we are connecting with you through Messiah Missions. We thankful to God that God has bless us with this beautiful day that we are alive and Praise Him. God has elect us to serve Him. We are few but we have strong faith in Him.
Jonah 2:99: "But I, with shouts of grateful praise, will sacrifice to you. What I have vowed I will make good. I will say, 'Salvation comes from the LORD.'"
During the month of October 2017, God has blessed 90 children with food at our LOT Center and provide small food package at brickyard for poor Christian families. God has anointed our group members that they continue to join us and spread the Word of God in Pakistan. During this month, we have visited three ministry area, where we Christian families are gather one home and praise Him in maturity. God has bless us that we reach our 90 Christian families and share the word of God. They are very happy to receive the Word of God. With the support from Messiah Missions, we have distribute five-food package to our five Christian families in brick kiln yard. They are thankful to Messiah Missions for their continue support.
Brick Yard Christian Family Support Program
God has provide five-food package to our five Christian brickyard families. They are very happy to receive this blessed gift from Messiah Missions and thankful to your great love. They said to you, "Thank you so much and God bless you with Grace, Peace, Joy and Love"
When we reach to them with the food package, they are very joyful and praise our living God and very excited. They pray that God open more heart for our brethren and they join us and pray for us.
Least of These Center
God has blessed our 90 children with foods. Children are thankful to Messiah Missions and friends who are standing for us. We study the bible from New Testament, The book of John. Children are praying that God open the door for us that we receive the warm cloth.
Prayer Request
Pray that God bless us with PEACE, We need PEACE in Pakistan
Love you.
In Christ,
Asim Saddique