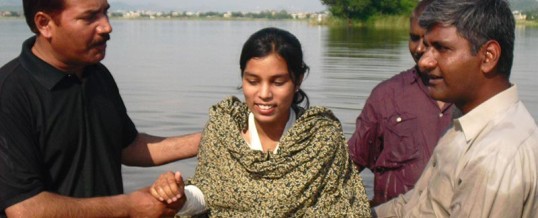 Greetings friends and partners of Messiah Missions, in the name of Lord Jesus Christ,
Persecution in Pakistan:
The Christian community here is continuing to experience difficult persecution and still in fearful condition because of church bomb blasts in Peshawar city, killing 85 beloved brothers, sisters and children. Still we have many threats from the local extremists and outside strangers… Please pray for us so the Lord may give us wisdom to the know love of God and courage to face the enemy with kindness. Also need to pray for rehabilitation for the affected families who lost family. The follow photos were taken by a close friend, most are not seen otherwise.

South Africa Trip:
Thank God for the South Africa trip, I was being invited by one of my missionary friend… there I had the opportunity to share the ministry updates and word of God in a church and then met some new friends.
Water Baptism Ceremony:
Last month we performed a water baptism ceremony at Pastor Latif's Church. Pastor Victor was present to give baptism. There were some thirty people who took the baptism after they deeply accepted Jesus as their personal Saviour.
Gypsy's Project:
Evangelist Akhtar has started working with the Gypsy's children, many who are orphaned. Praise the Lord, he was blessed with six kids in the beginning. We are praying for the more progress. It is a very hard task but are hoping for the support that Messiah Missions always seems to provide.
Street Evangelism:

Our street evangelism campaign was affected due to rainy season but thank God for the team's commitment. The team did some evangelism work in the surrounding areas of District Rawalpindi …the following literature have been distributed.
Bibles = 175
New Testaments = 197
Miracles of Christ = 398
Proverbs = 249
Kashmir:

Pastor Younis visited Kashmir for three days in the last month. He met with some new believers who were facing some problems created by some non-Christian extremists and terrorists' organizations. Please pray for Pastor Younis fellowship, which was the big encouragement for them. We also need to pray for Pastor Samuel and his family also who are working with them. The work of the gosepl there is in progress.
Charity school:

Thank the Lord for Pastor Victor, who already has the rented building for charity school along with the two new teachers. But still meeting with the school expenses is the big challenge for him. We are praying and looking forward to have this opportunity to train children up in the Lord Jesus Christ.

Help the Helpless:

We are praying and looking forward to have admission for two poor students in the nursing school. One of them will have scholarship after three months but the other needs financial support for three years.

Thank God for Imran Ahmed now he is better than before and able to walk even without stick but according to his doctors he need some more rest. He and his family are very grateful to us for this favour. A poor lady from Pastor Victor's Church went through her Kidney operation; GEOM is helping her for hospital expenses.
Heavy Rains and Flooding:
The rainy season still continues and winter has started also. We have visited many affected families. They have lost their households we are praying and looking forward to have some support, particularly their winter bedding for them.

Prayer Requests:
Evangelism / Follow up teams
Multimedia for charity school and mini bible school
New Church planting project
Converts Church in Kashmir
Deliverance of 3000 Bibles/New Testaments this year to gentiles
Needy and poor Christian students
Literature and transportation needs
Financial support for team members
Mini Bible school
Please keep us in your daily prayers and for the further information you may contact with us. Thanks, God bless you all.
In Lord,
GEOM Team