Dear Brothers and Sisters! Greetings in the name of our Lord and Savior Jesus Christ.
Thanksgiving: Glory to be the Lord for his faithfulness, provision and all the blessings he has given us for His glory. Thank God instead of bad circumstances of our country we were able to some evangelical work and approach many new people through this one to one evangelism program.
Friendship Evangelism & Street Evangelism: This month we had the opportunity to go on traditional and cultural fairs on the two different places. One was the Baisakhi Maila at Hassan Abdal punja sahib, there were many Sikh pirlgimes came to celebrate their religious rituals, from throughout the country and India also. GEOM five people team (Pastor Victor, Pastor Younis, Pastor Ilyas, Pastor Naseer and myself) had the unique opportunity to share the word of God with them and given them the Bibles, New Testaments and other Christian literature. We are practicing the friendship evangelism with them which was prove very effective to evangelize the Sikh people. GEOM team is going to different public places to seek the people who are hungry and thirsty for the word of God. Thank God many people welcoming the word of God.
GEOM street evangelism team is also keep on working in the remote and village areas like Jehlum, Mangla, Chakwal , Murree, Abbas Pure (Kashmir) and Abbot abad, etc.
1. Bibles = 96
2. New Testaments = 119
3. Miracles of Christ = 250
Library Project: By the month of April we did receive 25 more requests from different libraries and institutions. Also we have received five English Bible demand. It is a very good source to reach the educated book readers.
GEOM Follow-Up Team: Thank God for the follow up team efforts to take care of the seekers, its found that many people have different questions into their minds which they want to clear, in this way our follow up team have good opportunity to make their minds clear and share the word of God more with them, by sending feedback, they are showing their interest and want to keep in touch with us from different remote areas.
Take Care of Fruit: As I mentioned in the last month's new letter that there was one of convert couple who had the security problem due to terrorism and extremism in Pesahawar. We shifted them from there to here in Rawalpindi. And took care of them, they were living hand to mouth and they needed some help, Thank God GEOM could do it through some of our people and along with that we were praying for better resources for them.
Thank God now Brother Tanveer has found permanent job in Pakistan Air Force. Its great blessing for that family.
Evangelism Plan for June 2010: We were praying for evangelism tour with students in summer vacation from Peshawar to Karachi. Summer vacation will be start by 15th of June, right after then next week we have plan to get a training workshop. We will have two days workshop and two days practical street evangelism in the same city under the supervision of Pastor Victor. Then we have program to send them for this big task for the glory God. Please pray for this special summer vacation campaign. We are keeping on coordination with the pastors and evangelists in different cities, to make arrange more workshops and practical street evangelism. So in this way we have planned to run this evangelism movement throughout the country.
Prayer Requests:
Follow up team.
Evangelism awareness project with the students in summer vacation.
Church to Church evangelism awareness project.
Converts church in Kashmir.
Deliverance of 2000 Bibles this year to gentiles.
Library project.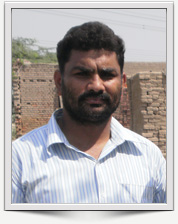 Please keep us in your daily prayers and for the further information you may contact with us.
Thank you and God Bless you!
Evangelist Paul David