Dear Brothers and Sisters! Greetings in the name of our Lord and Savior Jesus Christ.
Present Condition of our Country: We give thanks to our Lord for his faithfulness, provision and all the blessings he has given us for His glory. Our country condition is still same, there is no change, terrorism and extremism is still going on. Which is the big challenge for our people. Because we are also the victim of this bad curse here. So day by day it's looking hard for us to survive here. But as we are thinking that it's the need of time that we must stay here because God always has His special purpose from our lives to live here. So instead of all the bad circumstances we are committed not only to live here but also to serve the Lord and give glory to Him.
Hot Summer: Summer is at its full swing, its hard for our evangelism to work in the burning sun shine but praise to be the lord that they are doing their best as per routine according to their burden and passion.
Evangelism: This month GEOM team had the opportunity to work in the remote and village areas of district Murree on the mountains. It was very nice experience for our team to work with the mountain people. GEOM team found them very hungry and thirsty for the word of God. They also found some secret seekers and secret believers. They really need our spiritual, moral and financial support and encouragement.
In Last Two months team has been delivered the following literature to gentiles:
Bibles = 173
New Testaments = 198
Miracles of Christ = 305
Library Project: This month we have received 43 English bible requests from different libraries and some educated friends from gentiles. 19 Urdu Bible requests have been received. Thank God these requests have been fulfilled by the grace of God.
GEOM Follow-Up Team: GEOM follow up team is also keep on working with their good interest as per their routine. According to the feed back from the different people they are following them up. They are trying their best to keep in touch with them and also resolve their different issues, like answer their questions, their encouragement and their uplift.
Brother Tanveer and his Family: Thank God now Brother Tanveer has found permanent job in Pakistan Air Force. Its great blessing for that family. We give thanks to all of our ministry friend and prayer partners who did a lot of prayers for them. Brother Tanveer and his family also grateful to all their well wishers. Need to pray for them more for their blessing and prosperity.
Evangelism Plan for June , July 2010 Summer Vacations: According to our plan two people Victor and Ilyas have been started working with the students to encourage them, to recruit them, to train and to use them in the field for evangelism. We are praying for evangelism tour with students in summer vacation from Peshawar to Karachi. We are keeping on coordination with the pastors and evangelists in different cities, to make arrange more workshops and practical street evangelism. So in this way we have planned to run this evangelism movement throughout the country. In these days they are in Bhawal Pur ( city of our country).
Prayer Requests:
Follow up team.
Evangelism awareness project with the students in summer vacation.
Church to Church evangelism awareness project.
Converts church in Kashmir.
Deliverance of 2000 Bibles this year to gentiles.
Library project.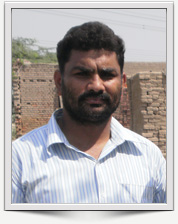 Please keep us in your daily prayers and for the further information you may contact with us.
Thank you and God Bless you!
Evangelist Paul David
Gospel Evangelical Team.