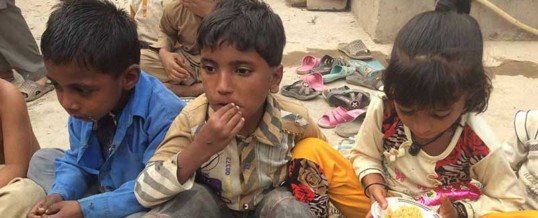 Dear Brethren! Greetings in the name of Lord Jesus Christ! We are thankful to Messiah Missions, that they open a door for us and deliver the Praise Report to worldwide. With their sponsorship to Pakistani children and development for Christian persecuted families. We are able to provide support to our children in their education, foods and medicine. We are thankful to you all that you pray for us and support to us. I am late to report you because i have health issues. So, Please pray for my health too.
We are praying that Messiah Missions will spread the word of God in entire world and share the love of Christ with all nations without walls. We are thankful to Messiah Missions that they support us in Evangelism, serving the little forgotten children, help the poor Christian families, develop them, sharing the food package. We are currently working on so that Christian families have their own mini resource of income. That they will not more slavery job in Pakistan. Bt the Grace of God, we are success in this small project. God has blessed us with one goat and goat feeding expense for one poor family. We have provided this goat and goat feeding charges to a poor, slaves Christian family during the month of October 2016. God has bless us with foods, school stationary for our children in Least of These Center.
During the month of October 2016, we have visited twelve remote area of Punjab province. We share the word of God and spend time with our brethren and stay with them in prayers and share the foods as God has provide us.
Evangelism:
We have visited our twelve town during the month of October, We arrange ten prayer meetings. Where we Christian gather in one Christian family home and united we Praise Him. We thankful to Messiah Mission to encourage us and contribute with us for the spreading good news in Pakistan.
Least of These Center:
We are thankful to God that God is guiding our brethren and they raise their hand and pray for our Pakistani mission to serve the forgotten little angels. We thankful to our brethren who take action and support us. During this month, we feed 90 children in lunch time for eighteen day and provide them school stationary. We arrange the Bible evening class and we share the Book of Job with our children and elders.
Here is a video of our Least of These Children during eating the food.

Small Income Generating Project:
God has guide us that we develop the income generating program for our Christian persecuted, poor and slavery job families. God has blessed us with this way and we stand with our Christian families and share the blessings with them.
(Include the Pictures from folder name" Small Income Generating Project, Pictures, Goat 1 to Goat3″ )
Here is our one selected Christian family, whom they received the goat and goat feeding expense. They will good take care of this goat and feed it and proceed more goats for the benefit of them. So, this way they will no longer slave, no longer to ask, no longer to see to other hands. They will proceed the more goat and earn money from selling goat milk and proceeded goat. So, our small contribution will will bring the bright future for one family in Pakistan. The goat cost is $90 and for goat feeding $50. Total $140. So, this can change the one Christian family future.
Prayers Request:
Pray to God that God bless and safe the missionaries, Pastors, Evangelist in entire world. God bless them with each and everything that they need in their spiritual and physically growth. Pray that the Word of God will reach the entire world. Amen
Yours in Christ,
Asim Saddique