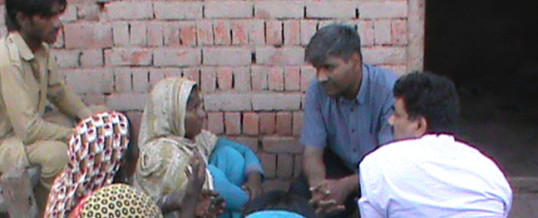 Dear Friends! Greetings in the name of Lord Jesus Christ,
Present Country Condition:
General Elections have been over now at the said time. We are very thankful to our Lord for it's completion in time. Though some problems have been seen but overall it was peaceful. Pray for the new Govt. that it might not bring more restrictions because we have seen their unfavorable previous policies against the evangelism.
Earthquake victims going through the rehabilitation process. But still there are after shocks continue. Please pray for the victims and their rehabilitation.
Street Evangelism:
Due to election campaigns GEOM team had the hard time to work but still we had the opportunity to touch some people at different cities like Gujranwala, Sheikhupura, Mananwala, Shahkot, Khorarianwala, Chuck Jhumra, Faisalabad and it's surroundings. Though people were so busy with the elections and were keep talking about the political parties. Following literature has been delivered.
New Testaments = 106
Bible = 48
Miracles of Christ = 118
Proverbs = 87
Follow up Team:
Pastor Victor and I had the follow up visit to Pastor Zafar's fieldwork at Faisalabad. We have visited many brickyard companies where our people keep working in miserable condition. During the visit I and Pastor Victor got so depressed to see their poor condition. We had the opportunity to listen them; we prayed for them and encouraged them, so they may also continue to have pray full life.

Testimony during trip to Faisalabad:
Pastor Zafar took us to a brickyard family, during the worship meeting a women got attacked by demons and the people told us that whenever she joins prayer meeting the demons attacked on her. Then we found that, she is demon possessed. Then we prayed for her all together, praise is to our heavenly father who listened our prayers and set her free immediately. She and her family were so happy to see the wonderful work of God.

Church in Kashmir:
Pastor Samuel is keep reaching out the gentiles in Kashmir but the Kashmir land is so tough need to pray for him so the protection of God may be with him and he may not discourage and continue to share the love of God in Kashmir.
Mini Bible School:
Next month we have plan to have seminar on evangelism. So the people who have interest in street evangelism, may have more tools to share the love of God in gentiles. Please pray for this too.
Church Planting:
Pastor Shakeel have over 20 families now in his newly planted church but he has no proper place to get them together. Recently a family has given a space in their house to start worship meeting. Need to pray for this family so Satan may not misguide this family and the work of God may grow well.
Charity school:
Charity school now moved to another rented building because the previous building needs to have some more construction work that's why the owner gave us notice to leave the building. Having a new rented building was a big challenge for Pastor Victor but thank God he found it but very expensive we are praying and looking forward to have resources for school expenses. He already has two teachers but need two more teachers. We are also praying and looking forward to have some financial support for them. The new classes have been started now and we have given books to 30 students. Some more are on waiting list we praying for them too.

Help the Helpless:
Thank God for Imran Ahmed, now he is able to walk a little bit with sticks but still doctores advised him to have rest for three months more…it's the matter to think that's why he need some financial support so during this period he and his family may sustain well. Please pray for him.
Prayer Requests:
Evangelism / Follow up teams
New Church planting project
Converts Church in Kashmir
Deliverance of 3000 Bibles/New Testaments this year to gentiles
Needy and poor Christian students
Literature and transportation needs
Financial support for team members
Mini bible school
Present country condition
Books, stationary and uniforms for more than 100 kids
Please keep us in your daily prayers and for the further information you may contact with us
Thanks, God bless you all.
In Lord,
GEOM Team