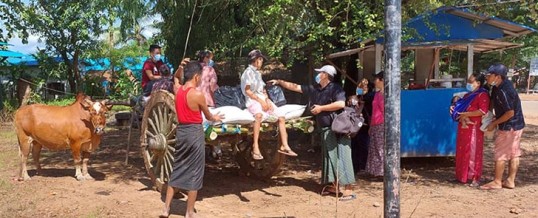 Greetings in the matchless name of our Lord. It is my pleasure to send you the Newsletters for September. and It is a great privilege for me to let you know how God is working in Myanmar through us and Messiah Missions International Myanmar. In this month, the government leaves a bit of the restriction of Covid, we can do the evangelism work more than before. Praise the Lord. It is the consequence of your prayer for us. The political situation of Myanmar is still getting worse but the heart of the people still open. They are hungers of the word. In this month of September, we can do online worship service and prayer meeting. We reach many people in this month with the gospel message. Glory to God alone.
Prayer meetings
In the month of September, we can have prayer meeting more than 30 times. It is on Zoom prayer meeting and visiting homes and prayer together with small group. We encourage one another with the Word. On Sunday, we have Sunday service on Zoom meeting. In that meeting, worker from the remote areas can participate on the service. As a whole, we can do at least 10 times a week for prayer meeting on zoom and home visit.
Sunday School
In the month of September, Covid restrictions is a bit lifted. Around 10 or 15 children can be organized in one place. It is to praise the Lord we can meet again the children whom we reached with the gospel. In this month, we can reach more than 70 children in all of our mission fields. And then God is wonderfully working in the heart of the children and 10 children accept Christ as their personal savior and Lord. Praise the Lord.
Evangelism
In this month, we can distribute 300 gospel tracts in Burmese. God bless us and we can reach more than 450 people with the gospel message. We can help the need of the people to show that we love them in Christ. We can make gospel trip to the rural villages to share the gospel of redemption of Christ. Because of God's grace, He bless our evangelism, 15 people confess Christ at their savior.
Prayer Requests
(1) Pray for the peace of Myanmar.
(2) Pray for people of Myanmar.
(3) Pray for the safety of the people of Myanmar.
(4) Pray for the lost souls of Myanmar to hear the gospel message.
(5) Pray for the center and office of MMI in Myanmar.
In His Service
David Ling
Messiah Missions International
Myanmar