TAMIL NADU MINISTRY
Originally we registered the KARNATAKA MESSIAH MISSION to work for the betterment of the village folk of the Kannada people and reaching them with the love of Christ through the Gospel of Jesus. Afterwards we found out that the neighboring states Tamilnadu were also longing for the gospel and it is our duty to reach them out with a helping hand.
We were praying for the lord's guidance we met Brother Caleb which person wanted to do the ministry of Jesus Christ and does not have any fellowship. He was running a Provision shop and actually the shop was running out of his hand. We counseled him, he became strong in the grace of God. We visited him and prayed for the work in Peruma Nallur a couple of times. In our recent visit we found that more than a 100 souls are praising God and worshiping the Lord in spirit and Truth. Actually Brother Caleb is the Father in Law of Ravi Shanmugham our associate evangelist.
Brother Caleb's son Philip got a couple of month's Pastoral orientation Training and he joined his father in the ministry full time. Presently Evangelist Philip and his wife Shanthi are blessed with a female baby.., Hephsiba. It seemed happier when we knew that 3 other young people from this congregation started prayer cells in their respective villages and they are growing.
KERALA MINISTRY
Tribal people in the western ghats are left out from the Gospel as they are black in color and they live in untrodden hamlets in the jungles. It is the motto of the MESSIAH MISSION OF INDIA to go to the places right there where sinners are. It is not our vision to preach where Gospel is promoted rather where Gospel is needed.
So our missionaries went to the small villages of the Chola Naicken people. Their language is similar to Kannada. Actually they are our people and they live on the other side of the Kabini River. We helped some of them to read the vernacular New Testament and gave the The Testaments and the Holy Bibles to them. A deserted woman Geetha; a couple, Saji and his wife; a Drunkard Kumaran; a youngster Peter Madhavan are the first converts from this Tribe which is called Chola naikkers.
Brother Suresh came forward to work among them. But the satanic forces were very very strong that firstly he got with an accident, next his wife became sick and bed ridden. Actually he was a failure but many thirsty souls from that area found a place of consolation and peace in his house and began to gather for worship.
But later a Satish chandra joined our mission and since he is from the same tribe he could easily found access to the remote villages. He found his cycle not enough for reaching the hilly jally villages and he has saved some money to buy a two wheeler. Actually he cultivated half an acre of land in the nearby forest and sowed paddy seeds there. Much crop was eaten by peacocks and deer and he gathered the rest of the paddy and sold it to find this amount. Actually rice is provided in the Public Distribution system so needs not worry for filling his stomach and of his wife. We have provided used clothes, umbrellas, books and note-books for the school children and Holy Bibles or New Testaments for the literates. It is our earnest desire to start a Literacy center here because almost all of the women folk is illiterate.
ORISSA MINISTRY
Orissa is famous for the riot against the Christians and a Massacre took place here 3 years back. From that day onwards it was our earnest desire to visit Orissa state and proclaim solidarity with the persecuted Christians there.
Evangelist Bhima Raitha, Samson Raitha and Isaac Malik came forward to work in fellowship with the MESSIAH MISSIONS OF INDIA. We could provide a nominal support to them to meet their traveling expenses when they go to places. Actually they are from the Kuyi tribe and they live in a group of houses in the jungles near the Eastern Ghats. Our recent visit to the riot hit state revealed that what they needed today is the encouragement and they need to know that some people are with them in their time of calamity. As we are members of the same body we feel like one and we wanted to say that we are with them in their fears and tears. 55 pastors and evangelists gathered and 15 of them decided to work for the lord in Fellowship with the MESSIAH MISSIONS OF INDIA. We could provide sufficient clothes and house hold items [clothes not new ones], Holy Bibles and every other thing the Word of God and its encouragement. It was very good to see their steadfast faith in the fiery flame of persecution by the communal radicals.
Even three Communal Radicals followed Pastor John madan Mohan for three kilometers and the Lord safely guarded me through because when the radicals saw that a couple of Hill Tribe people were with me they turned their Bikes in 180 degree and put the top gear.
May the Lord equip us with a BOLERO JEEP which can climb these hillocks and mountains.
May the good Lord boost us to able to support at least 50 evangelists in these among these mountains. Sunderdhama, Mohana, Navagudda, Arthala are some of our mission stations here.
God willing Pastor Madan will preach in the Khandahamal workers meeting in the last week of November.
VISIT OF SISTER CAROL WILSON
Sister Carol was with us recently. She came all the way from Indiana and visited us which was a great encouragement for us. Even she was with us on a glorious sunday morning when we broke the Bread in remembrance of the Lord's suffering and death on the cross. Our Director was honored on the occasion when the General Body and the Executive Council conferred on him the Degree of DOCTOR OF MESSIANIC PHILOSOPHY and presented a Memento ex-absentia.
NEEDS OF THIS MISSION FIELD
Since the Messiah mission .org is supporting other ministries in other states and even other Nations like Pakistan we are contented with what the Lord provides us. But we can share and care to pray for the needs.
Since all of the mission stations are in rented buildings, it may be seemed good to construct a building in the land provided for the purpose. We request all of our valuable prayer partners to pray earnestly for this purpose. As you all know the cost of a building I do not want to mention it here. But I can tell one thing that MANY THINGS ARE WROUGHT BY PRAYER AND IMPOSSIBLE THINGS ARE POSSIBLE WITH THE LORD. WE HAVE COME THUS FAR AS THE LORD ENCOURAGED US AND THERE ARE MILES TO GO BEFORE THE LORD'S COMING!
Much more things we want to write to you, here we stop for the time being. But we want to say the Leadership and the guidance of Mrs. and Reverend Steven E. Ray is a great encouragement to us.
We want to thank all the prayer partners and well wishers and stewards of the MESSIAH MISSIONS.ORG at this time.
Let all the glory to the slain Lamb and Risen King Jesus.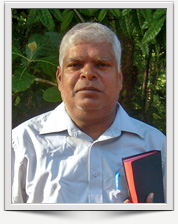 Yours in His vineyard,
Pastor John Madan Mohan
Brother Andrews Basavaraju
Brother Shyam Samuel