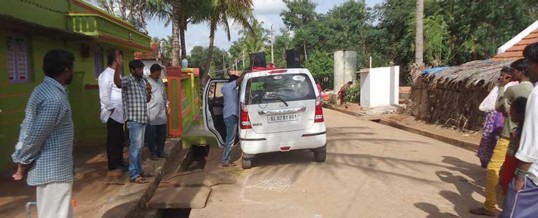 Dear family in Christ,
Greetings in the matchless Name of our dear Lord Jesus Christ! By the grace of our God, Father of Jesus Christ our Lord and Saviour which called us to minister His Word which will save the sinners, heal the sick and transform lives we are continuing the ministry by the power of the Holy Spirit. "Preach the Word, Be instant in season and out of season!" II Timothy 4:2
Our Lord and Saviour Jesus Christ, after conquering death and Satan, gave us an order to PREACH, TEACH, BAPTISE AND MAKE DISCIPLES. And He will be with us in this assignment even unto the end of the world. Yes, this is the greatest commission ever given to an Army by its Commander. Because the War is continuing some battles might have given us defeat but we will win the war because the Victor is with us.
Anybody can boast that he is a spokesman of God because there are different gods. But to become a Son of the Living God there are qualifications and worthiness. Our Lord and Saviour Jesus Christ is all worthy to be THE ONLY SON OF GOD.
And He made us His younger brothers. What a wonderful privilege we are bestowed upon! May all the glory to God and Father of Jesus Christ.
In India young people are being brainwashed and taken to be correspondents of war against the mankind. On the other hand, drinking water is polluted by throwing leaves, flowers and excess food to the drinking water resources in the name of religious rituals.
Atrocities against Christians in India never stops. It takes different forms. One of our believers' brother Paulraj has been beaten black and blue this time and his left hand has been fractured. He is recovering from the shock and the believers are praying for him and his family. Please pray for not only Paulraj but also for all the new converts which come to Christ are humiliated and persecuted in one way or the other.
New villages are met with the gospel by us. Hundreds of tracts and booklets are given free. We will not go after so called 'miracle working' but the infallible word of God is the provision for changing man from death to LIFE. This month I visited new villages called Thoramavu and Hemmavu. These names mean big mango tree and tasty mango tree but no mango trees found in the vicinity. But I understood that no Christian witness in this village. So I began to collect some children from the village.  And in the another village we could share some used sarees for the women. These are the examples of we try to reach new village s with the Gospel. Thank you for responding the call of India and encouraging the work we do in rural India.
This month, we took time to evangelize the mazdoor workeers from the neighbouring states of Karnataka. Previously North Indian States were having vacant situations and people from South India migrated there in search of livelihood. But nowadays people from North India are coming to Karnataka in search of jobs. Since our missionaries know many languages it seems their pleasure to speak the good news to all these people. Thousands of leaflets were given free and a booklet entitled as Devarannu thiliyuvadu hege?'[How can we know God?] also was given free. Many people received it with warm welcome. A few first time testimonies were also heard and we were greatly encouraged.
Brother Paily is continuing with me. Brother Shyam Samuel is always accompanying me. I could share some odd amount with him. Nevertheless he has some paddy fields as ancestral property. Sure to say he dropped some sacks of paddy here in our HQ also. We are providing midday meals to believers also both to the old and new believers. This month the government has modernized rules and regulations regarding children homes. So we will not get any more problems in the children ministry. Nowadays local income is limited.
I convey our love and regards to all of you. May the good Lord continue to shine His face upon you showering Grace and Peace.
Sincerely in our Messiah Jesus Christ,
Your brother in Christ,
John Madan Mohan