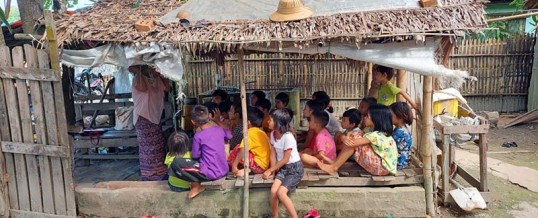 Greetings in the powerful name of our Lord, Jesus Christ. It is my honor to let you know about what God was doing in Myanmar through Messiah Missions International Myanmar(GLBC). We have a wonderful time and opportunities God has given us to reach out people with the gospel, preach the powerful Word that changes the lives of people. Praise the Lord. As in November, the Covid 19 restriction is opened, we can actively work for the kingdom work. Though the political crisis is still terrible, but the gospel also is spread. We see people including children accept Jesus Christ as their savior and Lord. It is by His grace. Glory to God alone.
Prayer Meetings
In the month of November, praying meeting is conducted many times more than 50 times. We have gathered together 4 times a week and pray together. We did 2 times a week on Zoom and pray together. And then, we have Bible study time on Zoom on Wednesday night and then, we have Bible study time on Sunday evening at the church after the service. It is our strength and energy and then power that motivate us in the mission work. Every Friday as usual, we have fasting prayer praying for all people around the world and then, the mission work of MMI around the world that God will effectively use for His own glory.
Children Ministry
In this month of November, we can reach many children more than 100 children. We rent church and did children camp too teaching the powerful to the children. It is amazing that God wonderfully works in the hearts of children and they accept Christ as their personal savior. We are so happy to see how God is wonderfully and amazingly using Messiah Missions International in Myanmar among the children too. We are now start praying and planning for Children Christmas on 18 December reaching out more than 100 children and teaching them the Word. We will give the children Christmas gifts and then provide them lunch.
Evangelism
In this month, as we actively work for the mission work, we can reach many adults people with the gospel. We teach them in the remote areas. We reaching them with the gospel tracts too. As many ways as God is leading us, we are ready for the mission work. The more we do the mission work, the more we come to know how people are so hungry for the Word that will set them free.
Prayer Requests
(1) Pray for the peace of Myanmar.
(2) Pray for the needs of children Christmas which will be on 18 December.
(3) Pray for the center and office of Messiah Mission International Myanmar.
Yours Faithfully,
David Ling
Messiah Missions International
Myanmar