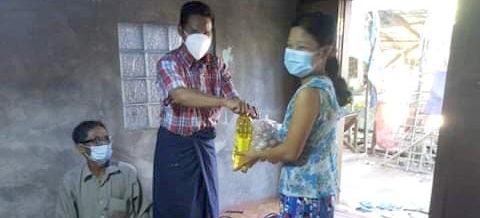 Hello Dear All Brethren in Christ!
Greetings in the precious name of our Lord, Jesus Christ. What a wonderful and amazing God we serve. It has been so difficult for everyone especially in 2020 but God is Immanuel being with us in time of the hard time. He protects us from every harm. We overcome the hardship of 2020 by the power of our God. I believe, we everyone can peacefully enter the newness of 2021 for His own glory. Even though we still have restrictions in Myanmar, we ourselves make the opportunities to share the gospel to the people in the Christmas time. It is amazing to see people are hungry to hear the gospel message that Jesus had saved us from the bondage of Satan.
Prayer meetings
It is hard time for us to visit to the non-Christian's houses for prayer meeting. But we try to do small group of pray meeting in non-Christian's house. We have more than 20 times prayer meeting at Non-Christian's house. And then we have fellowship and prayer meeting twice a week on the Zoom or FB messenger group. Sometimes, we did three times a week.
Sunday School
It is God's amazing grace that we can reach many more children in the remote areas especially in Seikphyu, Tarlay Shan state. Even though we can not organize or gather more than 25 people, we do group by group. We can reach more than 130 children in the month of December, especially Christmas season. We provide them food every gathering time.
Evangelism
Many evangelism activities can be done in December. We can reach more than 100 people sharing the gospel message why Jesus became man and distributed more than 200 gospel tracts.
Helping Hands
In the month of December, we can help many poor families with small Christmas gift. We can share small bag of rice, oil too. We can help 40 families with small gifts. We are very thankful to Messiah Missions International for the support to help the poor families. And we could distribute more than 200 packages of rice to the families in the Christmas day because we could not gather to celebrate the Christian celebration. But in Seikphyu, people can gather together for Christmas celebration and give gifts there too.
Prayer Requests
(1) Pray for the peace of the world
(2) Pray for people infected with Covid-19 around the world.
(3) Pray for the lost souls in Myanmar.
In His Service
David Ling
Messiah Missions International Myanmar
Myanmar