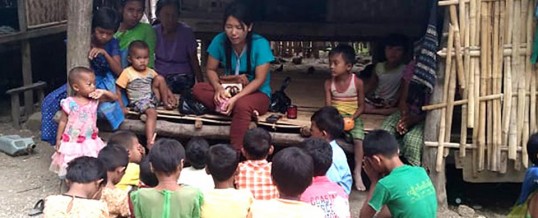 Dear All Brethren in Christ!
Greetings in the wonderful name of our Lord, Jesus Christ. The world is affected by Covid-19 pandemic. It is hard time for all of us around the world but we need to seek for the Lord's will in this pandemic time by spending time with God and then family in the reading of the Bible. In the hard times, I believe that we all are preserved by His loving hands.
Praise the Lord. In Myanmar, even though the cases of covid-19 highly increased, we could do the National Election on 8 November. Praise the Lord. After the national election, Yangon is lockdown again and can not go for evangelism, ministry as much as we can. But we use Facebook Messenger to meet and share encouragement with each other and strengthen. In this month July, we can not do much mission activities but we took every opportunity to share the gospel. God is with us and never forsake us.
Prayer meetings
In this pandemic time, we can not visit to non-Christians' houses to pray for them. we are doing online meetings for fellowship and prayer meetings twice a week.
Sunday School
By the grace of God, sometimes we can do Sunday school children teaching in remote areas. As it is in a remote area, more than 20 children can be participating in Sunday school teaching time. We provide sometimes food, cake of cool. We taught them the Bible verses, bible stories. We can not teach them every week, once two weeks.
Evangelism
In the remote areas, the villages, the restriction is a little bit lift. So, Pastor Timothy Yar Tun Hla who is serving in Shan state, the eastern part of Myanmar, and Joseph Naing Chaing go for evangelism once of a week.
Orphanage Home
The restriction going on, so the public school is closed. Therefore, children can't go to school this year.. They are at home. Every night, they have Bible study led by myself and my wife, Esther. They have finished reading the New Testament Bible and Proverbs and Psalm in the Pandemic time.
Prayer Requests
(1) Pray for God's touch upon the world, that despite these evil times, great fires of holiness will be ignited for His glory.
(2) Pray for people infected with Covid-19. For those in their physical trials, that they will seek out the Redeemer.
(3) Pray for the lost souls in Myanmar. Many who have heard the good news are transformed and now seek God.
(4) Pray against the evil standard lifted up against the godly, that they will endure despite the persecution.
In His Service,
David Ling
Messiah Missions International Myanmar
Myanmar