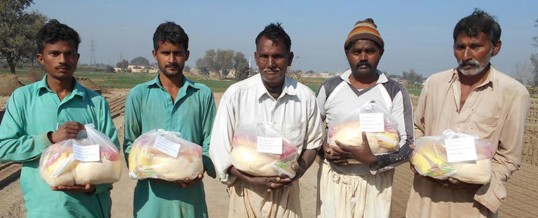 Greetings from Pakistan in the name of Lord Jesus Christ! We thankful to your great love, prayers and financials support in 2017. We are blessed that God is guiding us continually. Our God is blessings us with many way by Messiah Missions. We hope and pray that you will stand with us in this New Year too. Children and group members said to you, "Merry Christmas and Happy New Year."
"The Word became flesh and made his dwelling among us. We have seen his glory, the glory of the one and only Son, who came from the Father, full of grace and truth." John 1:14
During the month of December 2017, God has blessed 70 children with foods at our LOT Center and provide small food package at brickyard for poor Christian families. God has anointed our group members that they continue join us and spreading the Word of God in Pakistan. During this month, we have visit five ministry area, where we Christian families are gather one home and Praise Him in maturity. God has bless us that we reach our 70 Christian families and share the word of God. They are very happy to receive the Word of God. With the support from Messiah Missions, we have distribute five food packages to our five Christian families in brick kiln yard. They are thankful to Messiah Missions for their continue support.
Brick Yard Christian Family Support Program
God has provide five food packages to our five Christian brick yard families. They are very happy to receive this blessed gift from Messiah Missions and thankful to your great love. They said to you, "Thank you so much and God bless you with Grace, Peace, Joy and Love"
When we reach to them with the food package, they are very joyful, and praise our alive God, and are very excited. They pray that God open more heart for our brethren and they join us and pray for us.
Here are pictures of them:
Least of These Center
God has blessed our 70 children with foods. Children are thankful to Messiah Missions and friends who are standing for us. We study the bible from New Testament, The book of John. Children are praying that God open the door for us that we receive the warm cloth.
Prayer Request
Pray that God bless us with food and school stationary
Love you.
In Christ,
Asim Saddique