Pastor John Madhan Mohan of Messiah Missions India has provided photos and short biographies about four new believers, most of them widows, who have come to know the Lord after a history of India traditions that could not comfort their souls. Your prayer for the Lord to strengthen these ladies as well as your support is much appreciated!
My name is Manjula. I was born in an orthodox Hindu family but we had no god. Whenever we see a big stone we used to worship it. We worshipped the cow god , the monkey god and the snake god. I was married to a man while I was only 15 years old, we had a healthy family life.
I have 2 children now but no husband. In this time 4 months earlier I wanted to commit suicide with my two children. At that time a couple was talking about a new God which will save sinners and give new life. A verse they gave from the Bible inspired me: "I came to give you life and give it more abundantly." John 10:10. I wanted to try this new God. I came back to my sister's house, put the children there and went to a household work for washing clothes. I began to attend prayer meetings. I received Christ as my Lord and savior.
Now I am a child of God. I never care about my not having husband. I have Jesus for my father, mother, husband and God. I have 2 children I put names Grace and Joshua. Please pray for me and support me.
My name is Meena and I am 35 years old. I was born in a scheduled caste family, and we were very poor. My father and mother had 10 children. We were having no god. Whatever we see is a god and all the fights were for religion and rituals.
I was married to a man early in my teens. I do not remember how many years I lived with him. But now I am a widow but fortunately have no children.
I came to the MESSIAH MISSION prayer hall here [a rented house] and received Jesus Christ as my Savior and Lord. Presently I working washing clothes and cleaning utensils in some houses.
Our Pastor John Mohan tells I have calling for the Lord because I brought 2 new souls to the prayer halls for worship. Yes, I want to work for the glory of the Lord Jesus Christ. Please pray for me.
I am Ms. Manjula, I was married and my husband desserted me and eloped with ayounger girl. I roamed here and there and my two children starved with out food. I thought of committing suicide and went to the river for that purpose. In the meantime, one of my younger sisters which was also married came to Christ and at that thime came to see me. She could understand the situation quickly and cried with me. She took me back to her house and gave me food and milk to my children. On the next Sunday day she took me to the nearest worship place called the MESSIAH MISSIONS CENTRAL CHURCH IN NANJANGUD. Unlike my Hindu worship places I could feel a good and pleasant atmosphere in this place. After the service the Pastor John Roy prayed for me and comforted me in my condition. From the next Sunday the Pastor began to give me some money every week.
I was enrolled in the widows and destitutes women list and they began to support me with 600 rupees a month. But most important is I knew Jesus Christ is the Lord and true God. Committing murder and adultery is not only sin. Not knowing Jesus Christ as Lord is the biggest sin in this world so, I confessed this sin and all other sins to Jesus and a great peace came to my heart. I wanted Baptism and the Lord Jesus Christ enabled me to take baptism on the 8th of December 2012.
Please pray for me I want to stand for the Lord steadfastly. Now I cry no more because I have a Savior and a Shepherd for my self and my children.
I am Sakkamma. I am 50 years old and I am a widow. I was born in a Hindu family, my father had 10 children. We were three male and seven female children.
I studied hard among them and came up to matric level. I was beautiful also, they say. I got married and I had children. My husband was brutally murdered one day. 5 years passed, but still nobody had been arrested in this case so far. But I believe in Jesus Christ and I am happy in the Lord. Myself and my children are attending the Messiah Missions India church now.
I use my talents singing and praying for the development of the church and furthering of Gospel to the heathen. If some kind of support is extended to me that will be helpful so I can do ministry.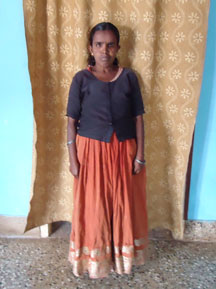 This is Javaramma. She is deaf and dumb. She is 45 years old. No growth is seen of her height. She has no father no mother not married so there is no question of children. She talks in sign languages. She never misses a prayer meeting or Sunday Service. She needs support as priority number one, it seems.
Note of the Director:
While souls are daily being added to the fold, it is noteworthy to consider those who are more needy. Like these four new widows having joined the fellowship. These ladies depend on Messiah Missions to assist with their daily living needs, but they also give back in service to the fellowship.
You may recall the verse in James 1:27, "Pure and genuine religion in the sight of God the Father means caring for orphans and widows in their distress and refusing to let the world corrupt you." We sometimes overlook Isaiah 1:17, "learn to do right! Seek justice, encourage the oppressed. Defend the cause of the fatherless, plead the case of the widow."
To help, visit or to assist the fatherless and widows in their affliction means to see, to look after, to be ready to aid them. This is an instance of what true religion in God's eyes is about, showing that it will lead to a life of practical benevolence (helping others in need). Also, one who is serving in genuine religion is represented as leading its friends to also server, or this is required everywhere of those who claim to be religious. It is not enough to help those in need, if we lack the internal persuasion to motivate others to help the needy, we may be lacking the correct motivation regarding our own participation.
Barnes Notes on the Bible states, "Where this disposition to be the genuine friend of the widow and the orphan exists, there will also exist other corresponding things which go to make up the religious character. This will not stand alone. It will show what the heart is, and prove that it will ever be ready to do good. If a man, from proper motives, is the real friend of the widow and the fatherless, he will be the friend of every good word and work, and we may rely on him in any and every way in doing good."
When men take more pains to seem religious than really to be so, it is a sign their religion is in vain. The not bridling the tongue, readiness to speak of the faults of others are signs of a vain religion. The man who has a slandering tongue or a critical heart, cannot have a truly humble, gracious heart. False religious may be known by their impurity and lack of care for the needy. True religion teaches us to do everything as in the presence of God or as being watched by God. An unspotted life must go with unfeigned love and charity. Our true religion is equal to the measure in which these things have place in our hearts and conduct. And let us remember, that nothing avails in Christ Jesus, but faith that works by love, purifies the heart, subdues carnal lusts, and obeys God's commands.