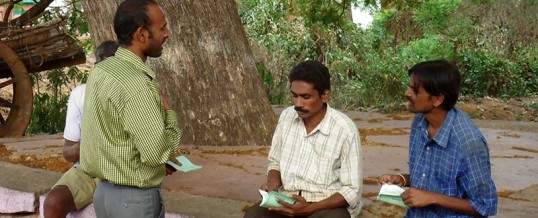 The following is the Ministry report of Pastor John Madhan Mohan and Mrs.Thangamma Mohan's Visit to the Bangalore Rural District
One Monday morning,the 3rd day of March 2014, Pr. John and his wife travelled 250 miles from Nanjangud National Messiah Mission Headquarters to Bangalore Rural District where our mission fields of Gokare, Devanahalli and Yemarahalli are situated. Pastor John and family had served the Lord and his mission in these places for 11 years starting from late 1990 till early 2001. Pastor was beaten by BJP and anti-christian activists in this Devanahalli in 1999 for proclaiming Gospel. He was even threatened to be killed by them.
Fifteen years passed by, and now we could see many changes in and around Devanahalli where an International Airport has been set up. The Land where God's people land their feet will be indeed blessed and we are the living witness of this act.
Gokare, the village where we were much loved is the place of our beloved Narayanaswamy (Samuel) who went to be in the glory of God on 25th feb 2014. The news was stunning and shook many people in Devanahalli as he was very much God fearing and righteous man witnessed around the city had suffered major heart attack and faced sudden death. He was the first fruit of Pr. John's missionary work in Devanahalli Taluk who was baptised under him in 1993. Rajamma (Ruth), wife of Samuel is in immense grief and we all ask your prayers for her as she can overcome the sorrowful sudden demise of her husband. Her two female children, Bhavya and Sumithra (married to Ambarish having 2 small kids) are very strong in the Lord and live with faith on Jesus's second coming. In this trip, Pastor John and family walked around Gokare village meeting many new people and going into their houses and shared the love of Jesus Christ.

The next day, 4th of March, Pr. John and his wife visited Yembarahalli which is 9 miles away from Devanahalli. There they visited many new people and also old disciples and spent a quality day of prayer and worship. These disciples were longing to see this missionary couple for almost 13 years. Many took decision to renew their faith in Jesus and return back to the first love on God. Mrs. Jayakumari, who was very much against Jesus and his ways, finally accepted Jesus Christ as her Savior and her house now is a worship centre and gathering arranged there on Sundays. You can see her house accompanied by worship materials, mats and musical instruments.

After the ministry in these places, Pr. John and family travelled safely to Nanjangud on 5th evening.
Please pray for all the 180 families of Gokare village and 205 families of Yembarahalli Village as we want to win each and every one in these villages for Jesus Christ.
Ministry Outreach Report From Nanjangud-March 7th 2014
As we are nearing the end of 1st week of March, we are immensely joyful to share the outreach report that we ministered in the villages of Nanjangud Taluk especially in the villages of Harathale and Valagere which are 7 and 10 miles away from Nanjangud town limits.
On March 7th, Friday afternoon after the fasting prayer, John Roy and Mahesh (Fellow workers of Messiah Missions Youth Outreach) went together on their two-wheeler to Harathale. As we were entering the village, we met with 2 people (mother and an adult son) rearing their cattle on paddy fields. We gave them Kannada tracts "How to know God".

Then we travelled further. A little later, we met an old man, Mr.Madev Naika, about 78 years old, feeding his cattle on the fields). We asked him many questions about God out of his experience in his life. He answered that he worships 12 gods and every god had different place of stay and character. We gave him Jesus. Wow!! We got excited when we shared this to the oldest man we met today.  As we saw him off, we told that we will be visiting next week again and hope to see him healthy and with talks about JESUS.

One mile further, we came along the kale side of Harathale. There we met  Mr. Srikantu, a middle aged man. Gave him a tract and he was excited to read the caption of it. We spoke for some time and he agreed he would visit our Headquarters in the coming days. Seemed that he needed God desperately. We prayed in our hearts that this man could be Baptised on the same lakeside where he was gifted with Jesus.

Then we entered Harthale village and we found many people sitting, lying and chatting freely on the mid part of the village as they had no work to do. This is more often and commonly seen problem in almost all villages of Indian as lack of Jobs making them to do so.
Then we met Mr.Nanjundaswamy, Mr.Basavaraju of Hundi, we met near their temple and spoke about God.

Messiah Missions Work among the Beggars and Slum Dwellers
There are many beggars and slum dwellers in Nanjangud town and suburban areas. Messiah missions workers find time to share with them the love of god and try to feed them and distribute gospels among them. These poor people are coming to this area from tamilnadu and andra pradesh. Many times much areas of these regions will not get  rains for recurring years and because of he situation they will get loans from the land lords and they will be forfeited their lands and become vagabonds. The main problem checks the rehabilitation with this work is the migration of these people from one place to other place very often seeking food and shelter. The local people also look to them with suspicion. If some theft or burglary reported in the town the local police used to come to the beggars and drive them away after questioning them. Taking pictures of these people also had invited criticism and opposition many a time.
Since our motto is reaching with compassion to the destitute we use to meet them and comfort them with Word and deed, distribution of food and used clothes and also gospel books and tracts to the literate people are the works done by us.
Pastor John invited two beggars from Devirammanahalli hundi on Monday afternoon, the 10th day of March 2014. They are Ragavan and Kasthuri. Ragavan is 65 years old. He lost his father and mother also his eyesight in the age of 6 years old and came to many part of south India. Kasthuri is 13 years old. She has not grown according to her age. But she is the eyes and guide to her maternal uncle. Oh poor guys!
In the picture you can see Ragava and Kasthuri, they were from Tamilnadu [southern state of India] migrated to Nanjangud in search of food and shelter. And also a safe haven in our area. We fed them with a midday meal and later I [John mohan] shared them the love of Jesus Christ and told them that god likes people who are poor in spirit. Encouraged them that they would get their food everyday as Lord is our provider.
Thank you,
John Roy