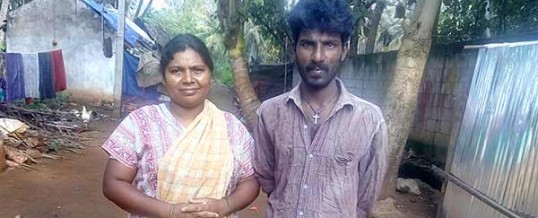 Greetings in the Name of our Loving Lord Jesus Christ who said, "I am the Way, I am the Truth and I am the Life" in the Gospel of John 14:6.  I used to interpret it Jesus is the True Way to Eternal Life. As is learned later by Apostle John in 1 John 5:20 "…so that we may know Him who is true. And we are in Him who is True -even in his son Jesus Christ. He is the True God and Eternal Life."
We greet you all the children of God, united in Messiah Missions to do the will of God and we wish you the Season's Greetings!
House Meeting Program
Time and again we have experimented and experienced many strategies for the announcement of the Kingdom of God, and this time we have decided to visit house to house with the Handbills and New Testaments. Like that, we have visited Nanjangud and Gadag Towns and also Arthala village, Huskur village,
Hullalli village, Nagarle village, Valagere village, Thoravalli village, Boothigere village, Karahalli village, and Hegadehalli village.
Hegade halli village seemed more receptive and we have spotted a handful of interested houses and many of them got saved and baptised.
Unfortunately because of the Hindu -Moslem riots sparkled by the Tipu Sultan 's birth day celebrations issue in which 3 persons died and many were hospitalised we could not take many pictures this time but we will send more pictures when we are going to conduct village gospel meetings in the villages mentioned in the future.
Pastor Shyam Samuel, our long-time associate, is looking after this ministry.
MMCD Centers
MMCD center means the Messiah Missions Children Development Centres. These centers are functioning as free tuition centers on week days and as Sunday Schools on Sundays. Due to lack of funds we have to stop serving one time meal in these centers. But we want to start as quickly as possible. Pastor Shyam Samuel also came with me to Gadag and Bettigere where a lot of children are gathered in three MMCD Centers.
Training – Heggade Hulli Campus
We need to train up the younger generation for the Gospel work. Though brothers John Roy, Shyam Samuel, Andrews, Kotresh, Devakumaran and David are trained enough, the younger generation like Mahadevan are not well trained in the strategies of the presentation of the Gospel of Jesus Christ.
Nevertheless leaders and instructors of the children ministry like Gowry Mary, Ambika , Leela, Shruthy, Rekha and Manjula were taken to Bangalore and were trained in child psychology and Sunday School Teaching.
So the committee is thinking to have the Trained Teachers to train the younger generation in Nanjangud itself; so that the Light will continue to shine.
In the Heggade Hulli Campus, from now onwards we will use this term to mention this part ministry and describe its development in physical and spiritual measure.
Local Churches
Due to heavy rains in Tamil Nadu the prayer hall we constructed with Tata tin sheets on the roof and cement bricks in the body suffered severely and we have sent a Sunday offering to buy some cement for the reconstruction. The believers themselves worked and Praise the Lord the prayers and worships did not come to a halt. Three more persons were saved and baptised and the room proved not sufficient for the full congregation.
In Devaramanahalli village prayer hall also the rain made some damages and the western wall is in the brim of a fall. We look forward our Lord's provisions for the changing of the windows. The present problem is the six windows we put are of cement windows and they cannot be closed. Serpents and other reptiles make a way inside through these open space and we have to first get rid of them before we start praying or worshiping our Lord Jesus Christ.
Finding The Balance In World Missions —in Tamil Language
One of the ancient languages of India is Tamil and 80 million people speak this language as their first language. Another reason is most of the Tamil people know their mother tongue only. Many servants of Our God have risen from Tamil Nadu.  These are the reasons that we have to bring the book Finding the Balance in World Missions. in Tamil language to enrich the Pastors and Evangelists and Missionary workers in that language into another hemisphere of sparkling vision for the winning of the nations, towns and villages for the Gospel of Christ from darkness to Light and from Eternal damnation unto the Never ending Life of the Son of God. The manuscript translation was ready before months and we have entrusted into The Angel Printers in the town of Sivakasi for the printing of the book in offset colours and utmost quality. We are very particular for the zero mistakes in letter and spirit of the original book authored by our International Director.
The book will find the hands of the Tamil-speaking Christendom in the New Year eve or beforehand. Thanks to Pastor M. Abraham Pastor in Sivakasi and Pastor Panneer Selvam pastor in Krishnan Koil, a nearby town of Sivakasi and also a long time well wisher of Messiah Missions ministries which are spending their time and talents in cooperating with this project. Pastor Devakumaran tried to translate this book first but he could not do it. But our Messiah missions Representative in India Pastor John Mohan, being a scholar in many languages of India and experienced in many fields of Christian ministry, could do it.
Children Ministries
Our children ministries are going smoothly. A first time student in our MMCD centre Manasapriya has now become a guide and instructor in our centre. But her studies did not come to an end and she is in the 12th Standard at present. This is a good example of Messiah missions bringing good ness to lives irrespective of caste, creed and colour.
Conclusion
Our Lord Jesus Christ, which has submitted on the Cross of Calvary in obedience to the Father and successfully declared Messiah so that everyone in Heaven and on Earth and Hell should worship Him declaring Him as Lord and Saviour . No other God in the 33 thousand million gods in Indian philosophy has such a deliverer, so India needs Jesus, yes all the 1210 million people need Jesus because the alternative is eternal hell brimming with fire and sulphur!
There are a lot of things more to share which we bear in our hearts, but we are sure to write to you in the coming months. We uplift you in our prayers before the Throne of Grace and wish our Gracious Lord will bless you a thousand fold and multiply you and yours a hundred fold as you support sacrificially the work done by Messiah Missions in the villages which are untrodden by the confessing Christians herein India.
Grace and peace continue in our Master's Vineyard,
Sincerely yours in our Master's love,
Pastors John Madan Mohan
Shyam Samuel
John Roy
Kotresh GadagAnd
Pastor David Shanker