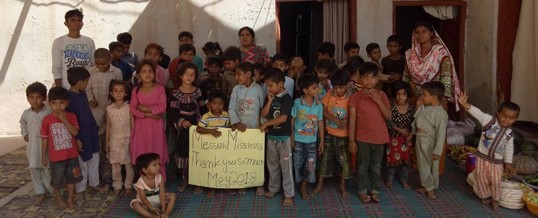 Greetings in the name of Lord Jesus Christ! During the month of May 2018, God has blessed us with food and school stationary for our 160 children and God has blessed us with five food packages for five Christian families. By the Grace of God, we have organised 10 prayers meetings and we visited door to door to our 70 Christian home. During the summer May to August, It is very hot weather. Pray for our children and families that God saved them from the heat.
"But from everlasting to everlasting, the LORD's love is with those who fear him and his righteousness with their children's children." Psalm 103:17
Brick Yard Christian Family Support Program
Praise the Lord Jesus Christ! God has provide five food packages to our five Christian brickyard families. They are very happy to receive this blessed gift from Messiah Missions and thankful to your great love. They said to you, "Thank you so much and God bless you with Grace, Peace, Joy and Love" We gather in Christian home for pray.

Least of These Center

God has blessed our 80 children with foods. Children are thankful to Messiah Missions and friends who are standing for us. We study the bible from New Testament, The book of John. Children are praying that God open the door for us that we receive the food and school stationery.
Saint James Primary School
The Bible Evening Class:
We are blessed and thankful to our Almighty God that He has blessed us with school stationary, books and notebooks and foods for our 80 children

God has open door for us and blessed us the food from heaven. We feed our 80 kids in our SJPS.
Formal Education Program:
We are thankful to God that He has blessed us with school stationary.
Prayer Request
Pray that God bless us with food and school stationary, school uniforms, shoes and school bag.
Love you.
In Christ,
Asim Saddique